India
'Outsourced' health dept. exams cause in-house chaos
Around 8 lakh students in Maharashtra were going to answer the recruitment examinations.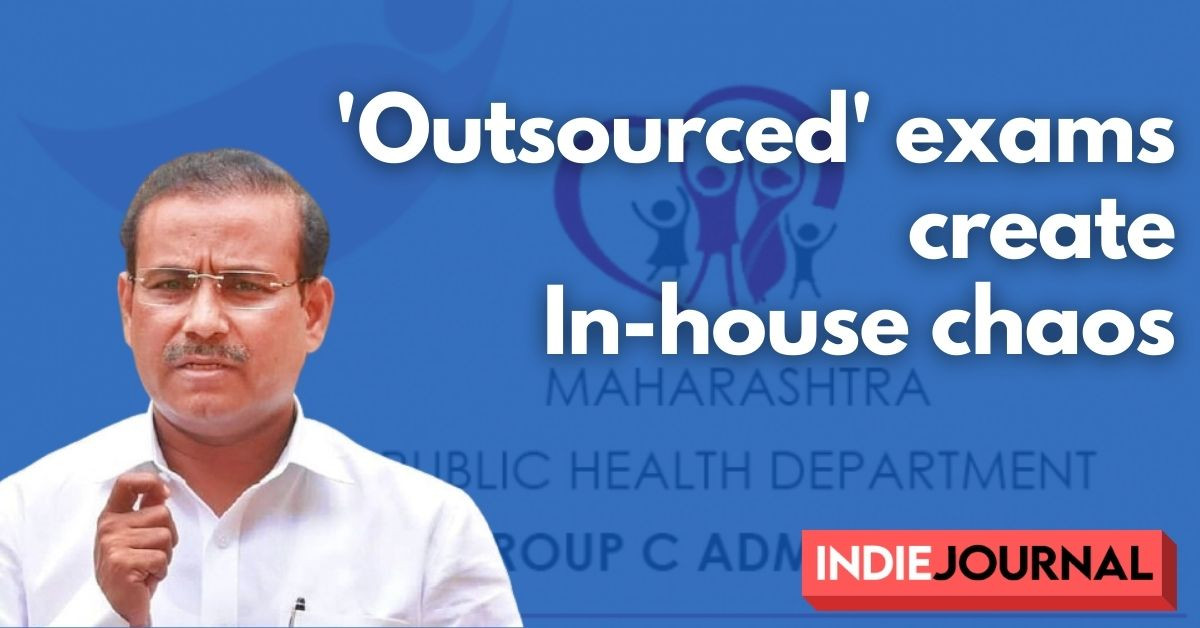 Around 8 lakh students in Maharashtra were going to answer the recruitment examinations for over 6,000 posts of class C and D officers in the state's health department. However, the exam could not be conducted today, as the hall tickets that the students received either had no mention of an examination centre, or the centres allotted to them were not in their own taluka, district or even state, but all the way in Uttar Pradesh.
The examination was postponed yesterday, just a few hours before it was scheduled to be held (today morning). State Health Minister Rajesh Tope announced that the exam was cancelled as the private company that the state government had outsourced the responsibility of conducting the exam, said that it could not make the necessary arrangements. The last moment cancellation of exams has sparked outrage amid candidates.
"We were told that we would get our hall tickets seven days prior to the examination either on SMS or on email. However, I did not get my hall ticket. So I began checking the website for the same every day. Just two days ago, I got my hall ticket. It had the name of the school that was supposed to be my examination centre, but the name of the village, taluka, district, anything that could help me locate it were missing," said a candidate who was going to appear for the examination today said on condition of anonymity.
"I was one of the candidates that raised a voice against this. But now, as I see how much the government is being criticised, I am afraid it would cause me a problem. I don't want this to end my career," he said.
While the address of his examination centre was missing, some other candidates were given centres far away from their homes. "The exam for class C posts was to be held today and that for the class D posts tomorrow. While filling our application form, we had given three centres of our preference. However, we observed that they did not take our choices into account while allotting centres. A friend of mine was given Satara centre for paper 1 and Solapur for paper 2. Another was allotted a Ratnagiri centre for the first exam while the second examination was scheduled at Jalgaon. How would it be possible for the candidate to travel from Ratnagiri to Jalgaon in less than 12 hours?" he questioned.
"Many candidates from Wardha preferred Nagpur, but, several were allotted a centre in Ballarpur, 350km away."
Ninad Date from Wardha also told Indie Journal a similar story. "Many candidates from Wardha preferred Nagpur as an examination centre because it was close to home. However, several were allotted a centre in Ballarpur, a city near Maharashtra-Andhra Pradesh border, which is over 350km away. Some even got centres in Chandrapur or Pune allotted to them, which was not at all practical," he shared.
This is not the first time a recruitment exam outsourced to a private firm has had to be postponed. "In February, the recruitment exam for class C posts in the health department had to be postponed because of such mismanagement. The exams were then outsourced to a company named Ginger. The exam then was also postponed because the company was unable to manage it," Mahesh Bade of MPSC Students Rights said.
"A lot of those exams were also outsourced."
While the Maha Vikas Aghadi government is now at the receiving end of criticism from opposition due to the examination chaos, according to Date, several similar incidents occurred even when the Bharatiya Janata Party (BJP)-Shiv Sena government was in power. He said, "The MahaPariksha was given the responsibility of conducting these examinations then. A lot of those exams were also outsourced. USD Global conducted several examinations for MahaPariksha. There were cases of paper leaks too."
He added, "When the exams are outsourced to private agencies, it's difficult for the government to monitor them. At least now the exam paper is set by the health department. Earlier, MahaPariksha was in charge of everything, right from setting the question paper."
MPSC Students Rights has been demanding that the recruitment exams conducted by MahaIT should be brought under the purview of Maharashtra Public Service Commission (MPSC) for a long time. "A while ago, they also agreed to this. Even MPSC was ready to conduct these examinations. But nothing happened, and when this exam was announced, we learned that it had been outsourced to Nyasa. All the political leaders care about are their own vested interests. Nobody cares about how these things affect the students," Bade added.
But while the organisations have been pushing to get all the exams under MPSC, some aspirants are sceptical about that as well. "I am sure the examinations will be held more smoothly if they are conducted by the MPSC. However, we have to remember that the entire process of an MPSC exam, starting from applications to final results, takes upto two years. So many candidates also prefer outsourced exams despite the mismanagement. The candidates would be better off if the MPSC expedites its process," Date said.
As per the health department, the exams were being held on priority considering the vacancies in the department amid the coronavirus pandemic. Group C posts mostly comprise staff nurses, auxiliary nursing midwives, pharmacists, laboratory technicians, X-Ray technicians, laboratory assistants and others. Group D posts include that of ward assistants, sweepers and supporting staff. However, there is no clarification about when these exams could be held next. "We just got a message saying the exams have been postponed and we will be informed of the new dates soon," Lakhan Chavan from Thane said.
Since the pandemic began, recruitment exams have been postponed time and again. "The MPSC examinations have been postponed six times since the pandemic. Thankfully, they are being held on schedule now. It's a stressful situation for the candidates when exams get cancelled. Most of these students come from humble rural backgrounds. They struggle for years and are constantly under stress. Each time when an exam gets postponed, it pushes them closer to the recruitment age-limit without even trying. The pressure from home to find a job soon also keeps building," Bade said.
"I have been studying for the exam for the past four years. I have been missing the cut-off by a few marks every time. This time, I was more stressed about the hall tickets than the exam. Now we wait for the exams to be rescheduled," the candidate said.