India
Alibag's lone Ham Operator takes charge of wireless communication during Cyclone Nisarga
Ham Radio Operator Dilip Bapat, is the only one in Alibag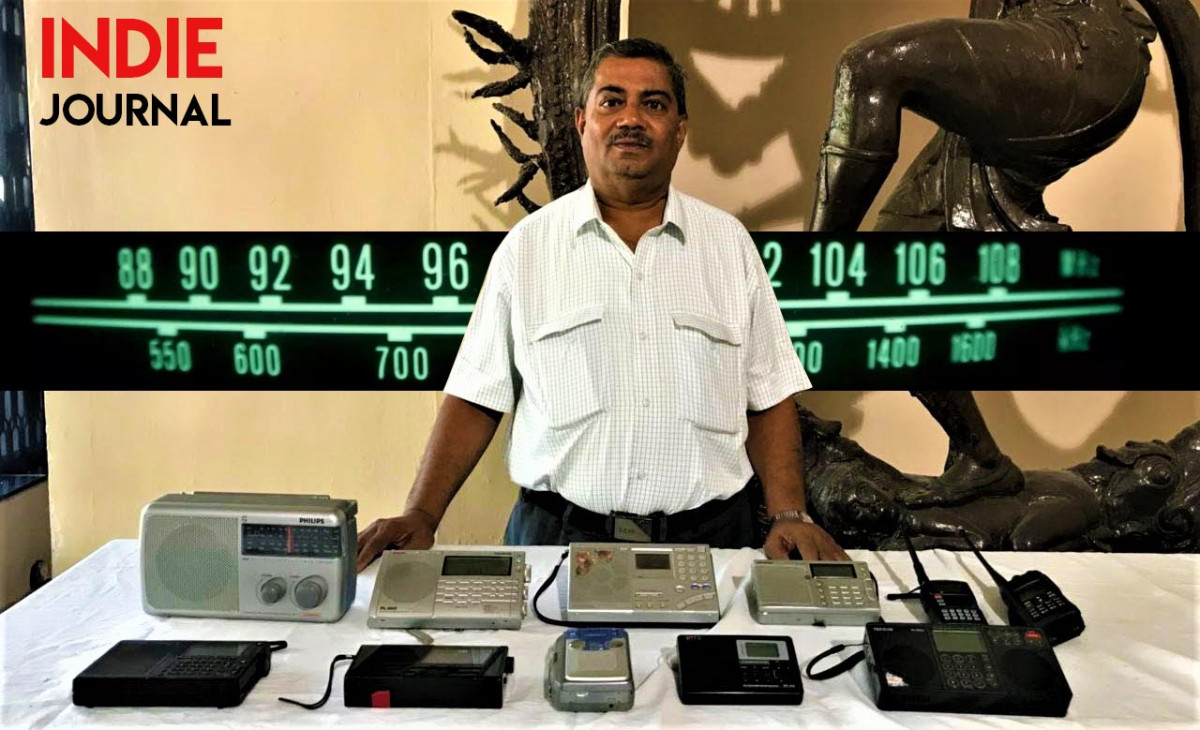 Ham Radios are small scale, amateur radio station operated by individuals with licenses to operate them. These radios can be used for recreational purposes, but are also useful for emergency communications during calamities. When cellular networks or other systems might give up in such situations, Ham radios can still operate functionally for local communication. This is exactly what happened when cyclone Nisarga made its landfall near Alibag on Wednesday.
Ham Radio Operator Dilip Bapat (VU3UEL), who is the only operator in Alibag, led his team as well as police and other administrative officials, to establish and maintain contact in the cyclone-affected areas in Raigad district on June 2nd and 3rd. Bapat, who has been a Ham Operator since 2015 is visually impaired, and has just about 10 percent of his vision intact.
"On Day 1, we set up the wireless system in preparation for the cyclone that was to make landfall on Wednesday. Since I am the only Ham Operator in Alibag, we did not have enough equipment here, so we used the police wireless system, and set a frequency for the disaster management without compensating for the safety of their network," Bapat said.
While Bapat was spearheading the project from Alibag, Kolhapur-based Ham Operator Nitin Ainapure coordinated the repeater from Mahabaleshwar, Amit Deshpande from Shrivardhan, Ham Operator Mandar Gogte and ShortWave Listeners Amit Gurav and Yogesh Sadare from Alibag handled the wireless communication during the storm.
Narrating his experience, Bapat said, "We kept a check on the low lying areas like Shrivardhan, Mhasala, Dighi, Murud, Rajpuri, Revdanda, Nagaon, and the whole patch from Alibag to Revas. The district collectorate officials used our network, along with the cellphones to ensure smooth evacuation in these areas ahead of the storm. On Wednesday afternoon, the cellphone network gave away after the storm made landfall, and the communication continued only through the Ham Radio Operators."
However, one of the major challenges in wireless communication, Bapat said, continues to be the lack of trained manpower.
"The wireless system and equipment that the police had, were in fact much better than ours. However, they did not have people who were trained to use it efficiently during the disaster. We only think of Ham Radio Operators when a disaster is about to strike, and then we forget about it. The government needs to promote this profession and train more people to be Ham Radio Operators. Considering the number of disasters that we are facing, this is very necessary," Bapat added.
A radio enthusiast since he was a child, the 62-year-old Ham Operator was a ShortWave Listener by hobby since the 1970s.
"I love radios, although I never got into it professionally. I worked with the State Transport for 37 years before retiring. Since 2015, I have become a certified Ham Radio Operator, and I have been volunteering for disaster management since," Bapat said.
He has a collection of about 50 different radio sets, receivers as well as transceivers, from around the world.
"I have been collecting the best of radios from different parts of the world, and have been using them. I have an Alinco SRST transceiver with the help of which I have even established contact with a radio station in Norway. I also have a transceiver TYT 9800 which operates in Very High Frequency (VHF) and Ultra High Frequency (UHF), and can be used most efficiently for short-distance communications during disaster management," he said.
"It's a very interesting world, the world of radios. We need more people, especially the younger ones, to come and learn from us, and guide the world when all other means of communication fail," Bapat concluded, as he got back to his process of winding up the network that he had set up for the cyclone.