India
150 persons detained by Alandi Police on presumption they 'will steal' from Warkaris
In the 1870s, the British had branded around 150 tribes across the country as 'criminal tribes'.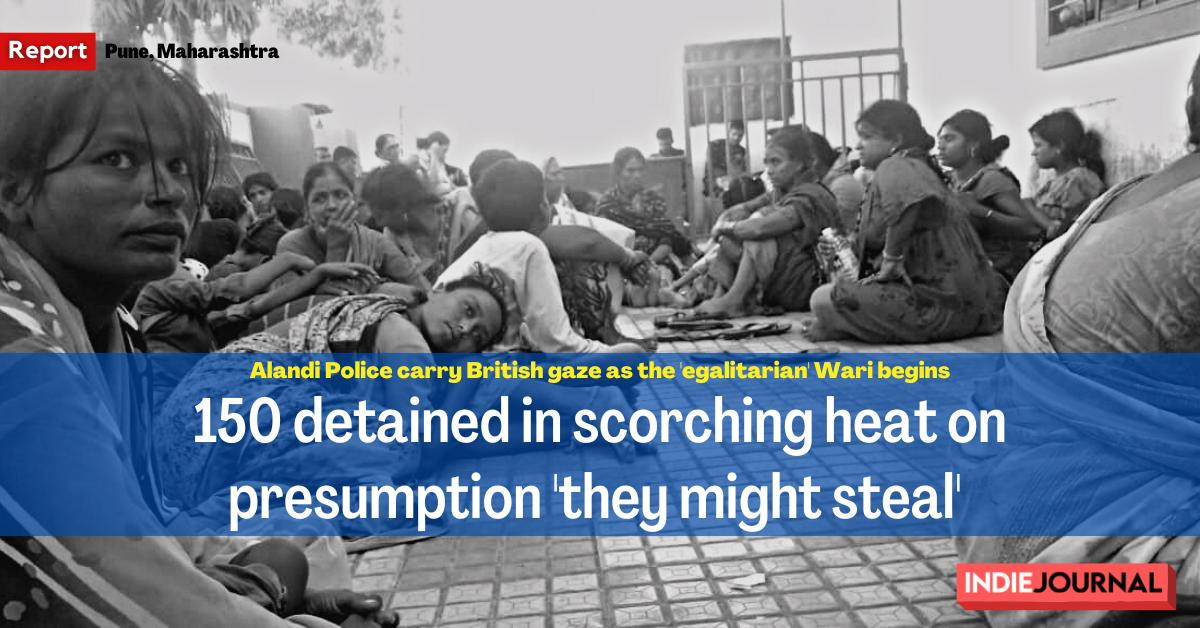 On the very day the Sant Dnyaneshwar Palkhi procession departed for Pandharpur Wari from Pune district's Alandi on Sunday, the local police detained around 150 people they have called "suspects" and kept them under observation outside the police station. Activists at the site have alleged that most of those detained belong to Pardhi community and they have been detained out of prejudice against the community. However, the police have maintained that they have been detained after being caught in the act for theft.
"One of our prominent Pardhi activists from Shrigonda, Digambar Kale, was detained by the police this morning. He was visiting Alandi for Devdarshan (pilgrimage). He informed us of his detention, along with several others from the community then. We were shocked to hear that this happens every year," said Sunita Bhosale, a Pardhi activist who was at the spot.
As per Bhosale and other activists, out of the around 150 detained, maximum belong to the Pardhi community.
"Most of these people had come to Alandi on the occasion of Wari from surrounding areas like Shirur, Daund, Shrigonda, etc. Some came for Devdarshan (pilgrimage), some of them are hawkers, a few others are beggars. They were all here for the Palkhi procession either for pilgrimage or for earning a livelihood and now they have been detained as 'suspects'," Bhosale added.
She further alleged that the people were targetted for coming from Pardhi community and for dressing, speaking differently.
"There are around 20-25 children among the detainees. There are some pregnant women. Everyone has been made to sit outside the police station all day in the hot sun. When we arrived here, the women cried and asked us what had they done to deserve this treatment. It's a heartbreaking situation," Bhosale said.
पारधी समूहातील लोकांना काल पासून संशयित आरोपी म्हणून आळंदी इथे पोलिसांनी जबरदस्तीने लहानमुले,वयोवृद्ध, गरोदर महिला असे साधारपणे 150च्या वर लोकांना नजरकैदेत ठेवले आहे,फक्त संशयित आहेत आणि पारधी आहेत म्हणून ही कारवाई? अशी वागणूक देणे कुठपर्यंत योग्य आहे? pic.twitter.com/EXC7b4Py4e

— Mumtaz Shaikh (@mumtajcorommf) June 11, 2023
In the 1870s, the British had branded around 150 tribes across the country as 'criminal tribes' for rebelling against the colonial regime. The tribes were finally denotified and the Criminal Tribes Act was repealed in 1952, five years after India gained independence. However, the stigma against the Pardhi community continues till date in different forms. Villagers often refuse to let the community live in their proximity, forcing them on the outskirts of villages. Several Pardhi activists have noted that the community is still seen as criminals by the police and Pardhis are often being picked up as suspects.
A woman police official at the Alandi police station, who did not disclose her name, confirmed that people had been detained and that there were pregnant women and children among the lot. But she denied that most of them were Pardhis.
"We have only detained 'suspects' who come to the yatra and were found stealing things from the devotees. We have caught a few of them along with the things that they have stolen. Our officials act only when they receive credible information. We have caught many of these detainees in the act. There is CCTV camera coverage everywhere around here," she said.
Khed Alandi MLA and Nationalist Congress Party leader Dilip Mohite did not find anything wrong with the detention and in fact supported the police action.
"I spoke with the local Police Inspector Yesterday. Every year, there are several cases of thefts in Alandi when Palkhi departs. However, this year, the number of thefts is certainly low. The police have taken action against those suspected to be thieves. There are people from several different castes among the detainees, not just Pardhis. There are also reports that some miscreants are trying to spread caste-based hatred and violence. Some detentions have been made with relation to that as well," Mohite told Indie Journal.
Pardhis are usually identified by the police by their physical features, the way that they dress and their language.
"Pardhis are nomadic. They usually travel to villages at the time of festivals, fairs, etc. Many of them are beggars and they visit such events to earn through begging. Police catch them when they see the distinguishing features like grey eyes, messy clothes, etc.," says activist Mumtaj Shaikh, who is following the situation closely.
"This is nothing new," says retd Justice BG Kolse Patil. "Adivasis and Dallits have been targetted in this country since 2014. They ignore the real culprits and incarcerate the innocent," Kolse Patil added.
Shaikh also questioned that if the police claim to have caught these detainees in the act and have evidence that they have committed a crime, why are they not showing an FIR or a complaint registered against them. Indie Journal could not reach any senior police officers associated with the case for their comment.
"The police said that the action was taken on orders from the Commissioner of Police Crime. However, they have not produced any such orders in front of our activists. We are not saying that no person from the community is capable of committing a crime. But detaining such a large number of people from a specific community with the presumption that they is human. The people have been kept there like animals," Shaikh adds.
Bhosale adds, "I sometimes feel even animals are treated better than how the police treat Pardhis. We are stripped of all our dignity."
Pune based legal expert Dr. Nitish Nawsagaray says that such an act by the police amounts to a violation of Article 21 of the Indian Constitution. He explains, "Although the Criminal Tribes Act has been denotified, the police manuals do not seem to have been changed regarding this. These tribes are marginalised and migrate to various places in search of livelihood and reach festivals and fairs. But then our 'civilised' society finds them suspicious and they end up in detentions."
"The police may legally detain a person on the basis of suspicion, however, one might ask, how the detainees tend to come from particular communities only? This is discrimination on the basis of caste. If there are no executive orders for such detention, then it amounts to wrongful confinement, which is a constitutional wrong," He adds.
Adding to this, Adv. Aseem Sarode said that detaining people without FIRs for days is completely in violation of human rights. "The DK Vasu guidelines issued by the Supreme Court state very clearly that the police cannot detain anyone for over a day without a complaint. They can be held for questioning, but for a very limited amount of time," he said.
MLA Mohite also confirmed that there are no FIRs and that the people will be released after Palkhi departure.
However, Bhosale says that there is no guarantee that will happen. "When we asked the police officers here, they said that after Palkhi departure, they will probe the detainees and register FIRs. But we could not confirm anything as there are no senior police officers who could give clarity on the issue," she said.
Edit: 11 June, 21:25, Edited for additional quotes and language.