India
Why Congress lost its throne in Prayagraj?
Prayagraj is the birthplace of the Indian National Congress (INC).
Snehal Mutha | Allahabad | Anand Bhavan, as usual, stands tall amidst the winter mornings in Prayagraj (Allahabad), a place that played a crucial role in the freedom struggle of India. Prayagraj is the birthplace of the Indian National Congress (INC). Anand Bhavan hosted INC conferences, took political decisions and announced many national movements. For example, the non-cooperation movement. Congress overall had a stronghold in its home ground from the pre-independence era. Today, it is left with a little presence. Since 1989, Congress let loose the political throne of Prayagraj.
Prayagraj is a smoking pot of political activism, be it university students, religious pandits or a thermal vendor. Pankaj Gupta, a vendor outside Allahabad University who is also a practicing district lawyer, said, "We have experienced different governments. Many do have a soft corner for Congress, but do not vote considering the corruption and its poor performance. Secondly, it has already lost its vote base in Prayagraj."
Post-1989, Congress performed poorly in all the 12 constituencies here except Allahabad South. Congress candidate Anugrah Narayan Singh from Allahabad North served four terms as MLA in the constituency, twice from Congress (2009 and 2014), once from Janata Dal (JD) and once from Lok Dal. Singh lost to BJP in 2017 but came second. More or less, this could be considered the only best performance of congress in Allahabad. Otherwise, the overall performance of Congress in 11 constituencies has been a mere disappointment. Even in the recent Lok Sabha polls, it ended up in the third position.
Downfall due to lack of leadership
Singh said, "Those leaders who helped Congress win in Allahabad have left the party. Then how is it supposed to survive? Congress saw its downfall first when its leaders left the party and started their own. Many joined BJP when Congress was facing a political crisis."
Rita Bahguna was president of the Uttar Pradesh Congress Committee from 2007 to 2012. Later in 2016, she joined BJP and won the subsequent elections. In 1988, V.P Singh left the party and formed Janta Dal (JD) and became its president.
1959 :: Indira Gandhi In Anand Bhavan , Allahabad

(Photo - Indira Gandhi Memorial Trust) pic.twitter.com/7uZor9HnYW

— indianhistorypics (@IndiaHistorypic) July 2, 2020
A shift in Traditional Vote Bank
With lost loyalists and shift of the traditional vote base to other parties, Congress vote share in state assembly elections has declined. Only in the 2002 election, it crossed the 10 percent mark since 1996. To regain its political space, Congress has tried various combinations of caste and religions along with its traditional vote bank. Pankaj Gupta further said, "It will take a while for the resurgence of power for Congress in Uttar Pradesh".
Brahmins, Muslims and Dalits were once the traditional vote banks of the party. The Brahmins sided with BJP owing to the Ram Temple movement, Muslims, Dalits moved to the Bahujan Samaj Party (BSP). OBCs shifted their allegiance to different regional parties such as the Samajwadi Party (SP). Mulayam Singh Yadav's stand on Ram Temple agitation swayed some Muslim votes. Mandal, Kamadal politics and the wake of BSP have dented Congress vote base further.
Weak Organisational Structure
Another reason for Congress to fail in its own home was the lack of cadres and volunteers on the ground. Wassem, a coordinator of Congress from Allahabad exclaimed, "If an event is hosted at Lucknow or Delhi, how will the people sitting in villages come to know about it? It is visible that congress has lost to BJP due to its loose organisation-level structure. We have admitted it and are working on our weaknesses. On the other hand, BJP has the strongest network in reaching out to people from even the remotest villages through their sister organisation."
Hissam Siddique, a Lucknow-based Senior Journalist emphasised, "People came to demolish Babri Masjid in lakhs. How was it possible? Rashtriya Swayamsevak Sangh (RSS) did the groundwork, took efforts to reach out to people, preached them, introduced them to forgotten literature and influenced their minds of how important Hindutva is. It had a strong network."
The ideology of Congress is blurred and has failed to assert the same. From being secular to projecting a picture of soft Hindutva, it has tried everything but failed to get output. A son of Congress president feels, "It is time to call youth for new ideas, further coherent the ideology and decimate the same in the community."
Another congress worker said he has been disappointed in the dismantled organisational working. He said, "We are expected to conduct events, sometimes unwillingly we have to do them. Otherwise, they can terminate us from our positions and give to others. They should listen to us instead of just instructing".
Failure in reaching out to people
"The policies and schemes were good, but people found it hard to avail them. The middlemen, the assumed agents of Congress, became the beneficiary. The system got defunct," said Sufi Saint Shamshuddin, former Congress worker.
For example, a Congress worker would charge the beneficiary to avail the house allotted under Awas Yojana. Corruption started from the grassroots and then made it to national headlines. Also, MLAs were protecting the wrongdoings of upper-caste people. For example, the Zarina rape case of Badohi. Zarina was the poster face of 5 Stars Aggarbatti. An upper-caste man raped her during MLA Banwarilal's tenure. Congress was anyway losing its influence. With BJP's entry, it happened sooner.
Women voters and Priyanka Gandhi's effort
Priyanka Gandhi's Uttar Pradesh election campaign 'Ladki Hoon lad Sakti Hoon' was recently launched. To reflect her campaign in a visible form, the congress party gave 40 percent seats to women candidates. Prayagraj district has a total of 46,02,812 voters including 25,03,349 males, 20,98,818 females and 645 transgenders. The women voters are all set to play a decisive role.
District election office statistics claimed that during the 2019 parliamentary polls, Allahabad, Phulpur and partially Badohi parliamentary constituencies had witnessed the percentage of women voting higher, compared to men. Congress has fielded the highest number of women candidates i.e. six women on 12 Assembly seats here, making it a 50 percent ratio in the district. The six women candidates are Shalini Dwivedi from Meja, Reena Devi Bind from Handia, Rinki Sunil Patel from Karchana, Durgesh Pandey from Phaphamau, Alpana Nishadh from Allahabad North and Manju Sant from Bara.
So this time, it will be interesting to see the congress performance in the home ground. What could the Priyanka factor do? While speaking to people about Priyanka Gandhi, they expressed Congress has new hope. A new motivation and monitoring system has come in due to her presence. She has brought a new face to the party.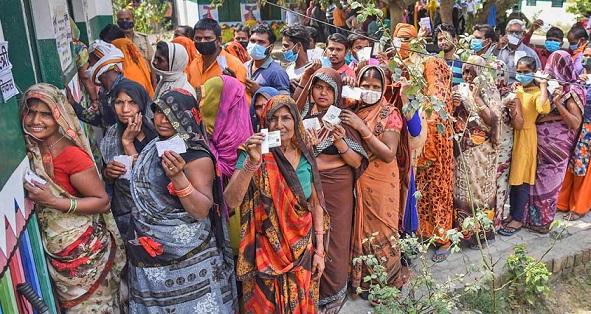 Women voters in Prayagraj/Allahabad. Credits - PTI
The core voter of congress, however, feels for now Samajwadi Party (SP) is an alternative to BJP, Congress still has time. He exclaimed, "Akhilesh humari Majboori hai, Priyankaji humari Chahat." (We are settling with Akhilesh now, but our heart goes with Priyanka.)
Bara candidate Manju Sant said, "Congress has weakened considering the lack of cadres on the ground, we are working on it. Every booth in Bara has a dedicated cadre. We have brought a system in place. We are working for the last five years to revive Congress here. I do have a strong feeling that I will win this seat for Congress."
On being asked about women she said, "Patriarchy has strong roots here. It is challenging to mobilise women, but by the 'Ladki Hoon Lad Sakti Hoon', at least they will start coming out from their houses and get involved in empowering activities."
Allahabad North candidate Alpana Nishad was unavailable to talk, despite several attempts to connect with her. People in her constituency feel that she is not the right candidate to contest from Allahabad North.
"Congress ignored people who worked for 15 years on the ground. On the basis of caste calculation and a women's card, Alpana was lucky enough to get a ticket. But no one knows her," said Pankaj Gupta. A few party workers feel the same.
To predict, Congress has the possibility of winning two seats, Bara and Allahabad South. However, the major goal of the party is to lay the foundation for the 2024 Lok Sabha elections. Altogether, they are rebuilding the organisational structure, reaching out to people, claiming their space for the revival of the party in the 2024 election. By winning certain seats, Congress might go with Samajwadi Party (SP), so it could put down the BJP.