India
Uddhav Thackeray delivers aggressive attack at Shinde, BJP
Thackeray's Dasara Melava at Shivaji Park and Maharashtra CM Eknath Sinde's at BKC ground in Mumbai were held simultaneously.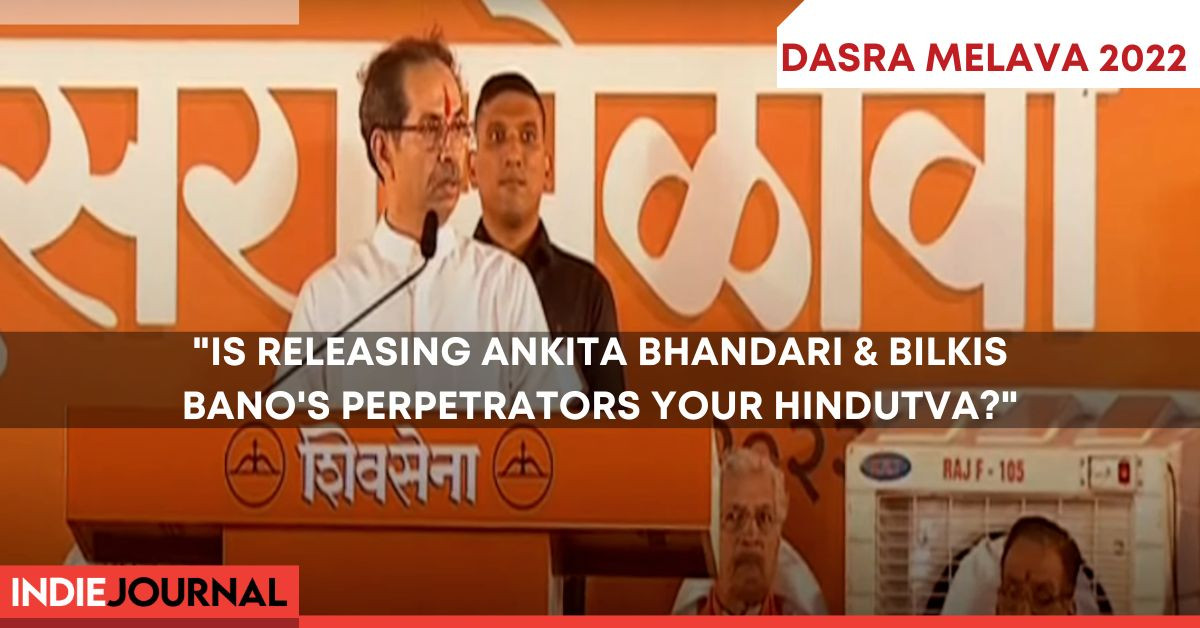 Shiv Sena Chief and former chief minister of Maharashtra Uddhav Thackeray attacked the Bharatiya Janata Party (BJP) on its treatment of women and women's issues at the annual Dasara Melava at Mumbai's Shivaji Park on Wednesday, referring to the cases of Bilkis Bano and Ankita Bhandari.
He took the stage to question the BJP and Rashtriya Swayamsevak Sangh (RSS) on the release of those accused in the Bilkis Bano case. "Bilkis Bano was raped, her child was killed. Gujarat government released her perpetrators. Your party is doing this. What women's empowerment are you talking about?"
Further, he also questioned RSS Chief Mohan Bhagwat on the rape of Ankita Bhandari in Uttarakhand and said, "I ask Mohan Bhagwat, what do you have to say about Ankita Bhandari's murder? She was killed at a resort owned by a BJP leader. Will you answer her grieving mother? What punishment will you give him?"
"Our Hindutva is that of Chattrapati Shivaji. He taught us to respect and fight for all women, may they be of any community," he said.
Thackeray's Dasara Melava at Shivaji Park and Maharashtra CM Eknath Sinde's at BKC ground in Mumbai were held simultaneously, as both sides took jabs at each other's stances.
Calling the Shinde faction of MLAs and MPs traitors, Thackeray challenged the CM to speak to him on the same stage without BJP's script. "I challenge him (Eknath Shinde) to come on the same stage with me and speak without the script given by BJP. My deputy chief minister (Ajit Pawar) did not grab my microphone," Thackeray said.
He thanked the people who had gathered at Shivaji Park for his Dasara Melava and said, "This year's Melava is unprecedented. I am overwhelmed. I have many things to say, but your love has made me speechless. This love cannot be bought. I bow to you all. When the traitors, yes they are traitors, left, many thought Shiv Sena is finished. I had no worry in my mind. Today when I say to them, not a single person in this crowd is brought with money."
Thackeray swore on his parents to reiterate that BJP went back on its pre-election promise to Shiv Sena that the CM post would be shared between the parties.
"The BJP stabbed us in the back, that is why I initiated the MVA to teach them a lesson. When I took the oath as CM, he (Eknath) was there too as a minister. Was he unaware of NCP-Congress then? I swear on my parents, it was decided before elections that the CM position would be shared between ShivSena and BJP for 2.5 years each," he said.
He further said that Congress-NCP never betrayed us (Thackeray). "They treated us with respect. Everyone suspected them, but it turned out to be you who backstabbed us."
Adding that Shinde and others stabbed him in the back when he was sick, he said, "They forget I am not just Uddhav, but Uddhav Balasaheb Thackeray. He (Eknath Shinde) cannot use his own father's name. He has to resort to using other people's fathers to claim his legacy. He has to use the committed Anand Dighe's name."
While the Shinde faction and BJP takes jab against Thackeray's Hindutva, he said during his address, "BJP leaders went to Pakistan and bowed on the grave of Jinnah, went to have biryani with Sharif and allied with Mehbooba Mufti. You will teach us Hindutva? They just talk of Hindutva but don't talk on inflation. RSS leaders themselves showed them the mirror and asked them to focus on the economy. If I don't speak on these issues then who will? "
Stay Tuned for Live Updates Thread, starting soon.
Uddhav Thackeray's Dussehra fight to keep his party.#Shivsena #DasraMelava #UddhavThackeray pic.twitter.com/X0jOL1K0Al

— Indie Journal (@indiejmag) October 5, 2022
Thackeray challenged them to a debate on Hindutva. "Balasaheb himself said that our Hindutva is not of the Shendi-Janva (ponytail-janeu thread). Our Hindutva encompasses all communities. We will stand as nationalist Hindus where needed. What is your (Shinde-BJP) Hindutva? To call all communities anti-national? Our armed forces have a gunman called Aurangzeb. He was a Muslim, but was killed and mutilated by terrorists. He was our brother, that is our Hindutva."
He also called how was it alright that Bhagwat visited a mosque, but Thackeray became ani-Hindu because he allied with NCP-Congress.
Thackeray also attacked BJP leaders for trying to finish parties in the country. "One doesn't understand if Amit Shah is the nation's Home Minister or BJP's alone. He goes from one state to another trying to finish one party after another. When JP Nadda says all parties will be finished, what it means is our Bharat Mata is being taken towards a dictatorship. Whoever you are, we need to come and fight to preserve our freedom," he said.
Thackeray also took a jibe at the Shinde-Fadnavis government calling it, "a flood of announcements and drought of actions."
"Projects being taken to Gujarat and this mindhe (submissive) government is helpless. They don't have the spine to raise their voice," he said, referring to the recent shifting of the Vedanta-Foxconn project from Maharashtra to Gujarat.
Thakeray also said that Shiv Sena leaders are being threatened with assassinations and police cases. "Is this how you follow the law? People from Panchayats to MLAs are being threatened. Don't make us lose our patience."
The Shiv Sena Chief challenged the Shinde faction and BJP to face him in Mumbai's local body elections. "You have been unable to reclaim land from Pakistan. China is encroaching on our land. But you speak of showing us mud by defeating us in Mumbai. You show your bravery there, we challenge you. We will praise you if you do."
Ending his speech, Thackeray promised the people that Shiv Sena will rise again from this. "I am the fighter son of a fighter father. Will you follow me? There will be a lot of hurdles, a lot of pain. But I promise you, we will rise like wildfire from these ashes. We will have a Sena CM again, I promise!"
As part of the attack on the rebel Sena MLAs are attacked for taking 50 crores (khoke-box) as a bribe, a Raavan effigy made of Boxes with 50 written on it was burnt at Shivaji Park, as Dasara Melava concluded.