India
Shinde emphasises on 'traitor' label in defensive speech
Members of the Thackeray family, Jaidev, Smita, Nihar, were present at Sinde's Dasara Melava at BKC ground.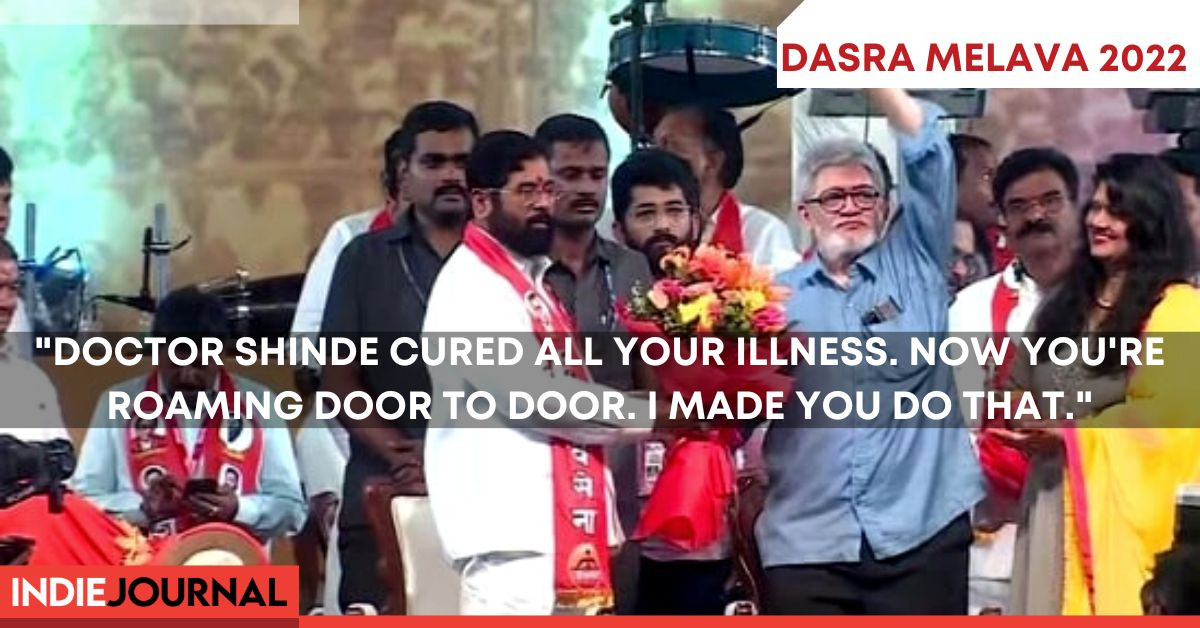 Maharashtra Chief Minister and leader of rebel Shiv Sena MLAs Eknath Shinde counter-attacked Shiv Sena Chief Uddhav Thackeray against his remark of treachery, as he delivered an address at Dasara Melava held at Bandra Kurla Complex (BKC) ground. Thackeray betrayed people and Balasaheb's ideals when he broke Shiv Sena's alliance with Bharatiya Janata Party (BJP) in 2019, Shinde said.
"You (Uddhav) tied Shiv Sena to the parties, that Balasaheb derided as scoundrels. If we had betrayed Shiv Sena, we would have not received so much support. We did not drop Balasaheb's ideals for power and we will never do that. We are the ideological heirs of Balasaheb. Yes, there was treachery, but it happened in 2019. We betrayed the people who had voted for the Shiv Sena-BJP govt. You insulted the mandate of the people," Shinde said.
Thackeray's Dasara Melava at Shivaji Park and Maharashtra CM Eknath Sinde's at BKC ground in Mumbai were held simultaneously. Both wished to hold the Melava at the traditional venue of Shivaji Park, however, the Bombay High Court granted permission to the Thackeray-led Shiv Sena to hold the gathering at Shivaji Park.
Speaking about the same, Shinde said, "If I would have looked into the matter, they would have never got permission for Shivaji Park." He also emphasised how large a crowd of people had gathered at BKC ground throughout his speech.
Defending his decision to ally with the BJP again, Shinde said, "MLAs would come to me and express anguish that Congress-NCP would interfere in their departments. I tried to calm them down but then we decided that we had to correct this mistake."
"You (Uddhav) need to introspect why so many of us left you. What are we supposed to do, follow you blindly? I never did that. I only thought of what was good for the state. Do you think we made this decision in joy? We are also pained by it. But we did this when our patience ended. Many people also called the struggle against the British treachery, but it was a revolution!"
He also added that BJP, since coming to power, has fulfilled Balasaheb's dream. "PM (Narendra) Modi has fulfiled the dream of Balasaheb Thackeray. May it be Article 370 or building the Ram Temple, he fulfilled it while you made fun of them. You shouldn't underestimate Amit Shah and Narendra Modi."
Stay Tuned for Live Updates Thread, starting soon.
Eknath Shinde leads rebel MLAs at the Dasra Melava at BKC Ground.#Shivsena #DasraMelava #EknathShinde pic.twitter.com/oWdyaZNIy5

— Indie Journal (@indiejmag) October 5, 2022
Shinde also took a jibe at Thackeray for not being present on the ground. "Doctor Shinde cured all your illness. Now you're roaming door to door. I made you do that. But it's too late. Yours was Work from Home, ours is Work without Home. We are people who go to the ground and work. I was on the ground during COVID. People would not meet their families for fear, the disease was such. But this Eknath Shinde wore a PPE Kit and helped people. All people on this stage risked their lives during distress."
Shinde further said, "No one was happy with your work. In the name of COVID, you shut shops, temples, schools, but your shops were running full time. I won't say what shops they were, but who else would know better than me?"
Further referring to the COVID restrictions indirectly, he added, "Our government helped celebrate Dahi Handi, Ganeshotsav and Navratri on a grand scale. Now we will help celebrate Diwali too! People will get four groceries in just 100 rupees!"
While Thackeray in his speech launched an attack against the Rashtriya Swayamsevak Sangh, Shinde defended it. "We have vowed to destroy any anti-national outfit or party like PFI (Popular Front of India). That is our agenda. After PFI was banned, some people called for ban on RSS. RSS was instrumental in building India. It is laughable to call for its ban."
The CM called Thackeray spineless and remarked, "You were only happy being a CM. But Congress' Zenda (flag) and Rashtrawadi's agenda was the reality of your government. You did not even dare to say a word against those who shout Pakistan Zindabad in India."
"Savarkar is a god for us. But Congress kept insulting him calling him Mafiveer. You did not raise any protest against it. You even joined their Bharat Jodo yatra. How spineless can you be?"
Referring to him being called a contractual CM, Shinde said, "Yes I am a contractual CM. I have the contract to make this state prosperous. I have the contract of developing this state."
Uddhav Thackeray's elder brother Jaidev Thackeray, his wife Smita Thackeray as well as Uddhav's nephew Nihar Thackeray were present at BKC ground, at Shinde faction's Dasara Melava. Talking on the occasion, Jaidev said, "I am very fond of him (Shinde). This Thackeray cannot be tamed. I liked a few stances that he has taken, Maharashtra needs an aggressive leader like him. He is hardworking. Dissolve everything and let Shinde Rajya (Shinde's reign) begin."