Quick Reads
News Dabba for 5 December 2022: Five stories for a balanced news diet
Here are the daily updates that the internet is talking about through various news websites.
Indie Journal brings you the daily updates that the internet is talking about through various news websites. Here's a glance through some of the National and International news updates, from Gujarat elections live updates, reports from China that Covid is weakening, to eruption at Indonesia's tallest volcano.
BBC report from inside Haiti's capital city affected by gang violence
BBC report says that competing gangs are carving up the Haitian capital, kidnapping, raping and killing at will. Armed groups control and terrorise at least 60 percent of the capital and its surroundings, according to Haitian human rights groups. They encircle the city, controlling roads in and out. And the UN says the gangs killed almost 1,000 people here between January and June of this year, the report adds. Read the full report here.
The Hindu live updates: Gujarat elections phase II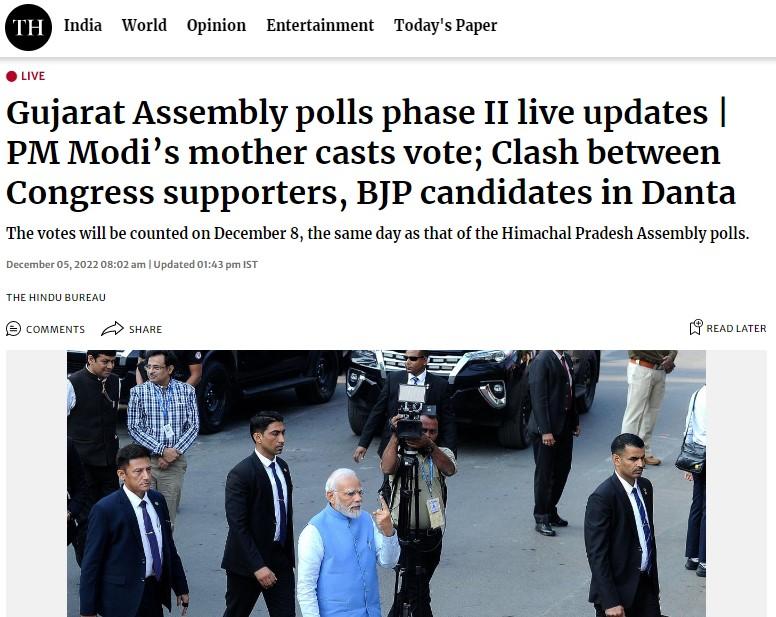 The Hindu's live updates cover phase II of the Gujarat elections, wherein voting is held for 93 seats in 14 districts, including Ahmedabad and Vadodara. There are 833 candidates in the fray, including high-profile candidates such as Chief Minister Bhupendra Patel from Ghatlodia in Ahmedabad, OBC leader Alpesh Thakor, Patidar quota agitation leader Hardik Patel, Dalit activist Jignesh Mevani, the report adds. The Election Commission has set up 26,409 booths and nearly 36,000 Electronic Voting Machines (EVMs) will be engaged. After a dull start, the report adds that voting in the second phase recorded a 19.17 percent turnout by 11 am. Read the full report here.
The Guardian reports China state media claims Covid is weakening
Coronavirus is weakening and management protocols could be downgraded, the Guardian reports that an expert on China's state media has claimed. This comes after unprecedented protests last week led to a major shift in Beijing's commitment to its zero-Covid policy. Since January 2020, China has classified Covid-19 as a Category B infectious disease but has managed it under Category A protocols, which give local authorities the power to put patients and their close contacts into quarantine and lock down affected regions, the report adds. It further says that an unnamed infectious disease expert told Chinese media outlet Yicai that more than 95 percent of China's cases are now asymptomatic and mild, and the fatality rate is very low. Read the full report here.
Review plea on SC order on release of accused in 20212 Delhi rape-murder, HT reports
Nearly a month after the Supreme Court acquitted three men convicted by a lower court in the gangrape and murder of a 19-year-old woman, the family has now sought a review of the order. Hindustan Times reports references to the incident wherein a 19-year-old was kidnapped from Delhi and later found dead in Haryana. The review petition has been filed on the behalf of the woman's father. Last month, a three-judge bench headed by former Chief Justice of India (CJI) Uday Umesh Lalit acquitted the three men accused stating it is difficult to hold that the prosecution had proved the guilt of the accused by adducing cogent and clinching evidence. Read the full report here.
Thousands in East Java on high alert after Mount Semeru eruption, The Straits Times
Thousands of residents in Indonesia's East Java were on high alert on Monday after a violent eruption at the island's tallest volcano. The Straits Times reported it prompted authorities to impose an 8km no-go zone and forced evacuations of entire villages. The provincial search and rescue agency deployed teams to the worst-affected areas near Mount Semeru to assess the damage, with low rainfall giving some reprieve, the report further says. The 3,676m volcano erupted at 2.46 pm local time on Sunday. No casualties have been reported and there has not been any immediate disruption to air travel. Read the full report here.