Quick Reads
News Dabba for 29 May 2023: Five stories for a balanced news diet
Here are the daily updates that the internet is talking about through various news websites.
Indie Journal brings you the daily updates that the internet is talking about through various news websites. Here's a glance through some of the National and International news updates, from Delhi teen's chilling murder caught on camera, Cahina's Shenzhou-16 space mission launch, to snap elections being called in Spain.
NDTV: Delhi teen's chilling murder by boyfriend, captured on CCTV, no one stops him
NDTV reported that a girl was stabbed multiple times and struck by a stone slab by a young man n north Delhi's Rohini yesterday. The incident was caaptured on a CCTV camera. The report says that the video shows people passing them by, staring in alarm but doing nothing to stop the attack. The 16-year-old girl goes still but the frenzied attack doesn't stop, the report says. The young man attacked the girl, allegedly his girlfriend, at a busy lane but no one could save her. He is missing. Read the full report here.
Situation calm in Manipur a day after spurt in clashes, The Hindu reports
An uneasy calm prevailed in ethnic conflict-affected Manipur, a day after a sudden spurt in clashes and firing between militants and security forces, The Hindu reports. The death toll from clashes a day before rose to five on Monday as three more people succumbed to their injuries. Army and paramilitary personnel continued combing operations in the Imphal valley and surrounding districts, an official said. The report adds that the Army operation is aimed at confiscating illegal caches of arms. Read the full report here.
China to launch Shenzhou-16 space mission with first civilian: The Straits Times
China will be launching its first civilian and the country's most experienced astronaut into space on Tuesday, The Straits Times reports, to mark the start of a new phase for its recently constructed space station. Professor Gui Haichao of the Beihang University in Beijing will be travelling alongside veteran astronaut Jing Haipeng as well as Colonel Zhu Yangzhu, who will also be going into space for the first time, the report adds. They will be on board the Shenzhou-16, or Divine Vessel, which will be launched into space from Jiuquan Satellite Launch Centre in north-western China. The Shenzhou-15 crew has lived in space for about six months. Read the full report here.
Typhoon Mawar heading to Japan, TeleSUR reports
On Monday, the Japan Meteorological Agency (JMA) have issued advisories highlighting the likelihood of hazardous conditions due to the approach of Typhoon Mawar to the southernmost prefecture of Okinawa. TeleSUR reports that these include rough seas, high tides, violent winds and torrential rain. The JMA has issued a warning regarding the typhoon's slow movement, which implies that its severe weather conditions could persist for an extended duration. Read the full report here.
Al Jazeera reports Spanish PM calls early election for July 23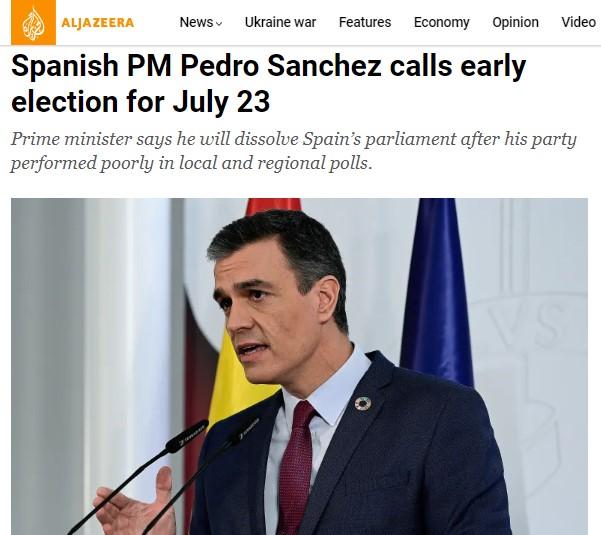 Spanish Prime Minister Pedro Sanchez has called an early general election for July 23. A Jazeera reported that the decision came after his party suffered a major setback in local and regional polls. Sanchez said he had informed King Felipe VI of his decision to dissolve parliament. The report adds that the PM had previously said he would complete his four-year team, suggesting that polls would be held in December. Read the full report here.