Quick Reads
News Dabba for 23 October 2023: Five stories for a balanced news diet
Here are the daily updates that the internet is talking about through various news websites.
Indie Journal brings you the daily updates that the internet is talking about through various news websites. Here's a glance through some of the National and International news updates, from heavy bombardments in Gaza overnight, Santiniketan's UNESCO tag plaques controversy, to the Mumbai building fire.
'Heavy bombardments' in Gaza overnight: Al Jazeera's live updates on Israel-Hamas war
Some 400 Palestinians killed by Israeli air attacks on Gaza in the last 24 hours, according to Palestinian health officials, Al Jazeera reports. Israel bombarded residential areas in Gaza including the densely populated Jabalia refugee camp and locations close to Gaza's Al-Shifa and Al-Quds hospitals. Israel also intensified raids in the occupied West Bank overnight, with two Palestinians killed during a raid on Nablus, the report adds. Meanwhile, Egypt's Red Crescent humanitarian has been delivering aid through the Rafah border crossing on Monday. Read the full report here.
2 die in fire at 8-storey building in Mumbai's Borivali, NDTV reports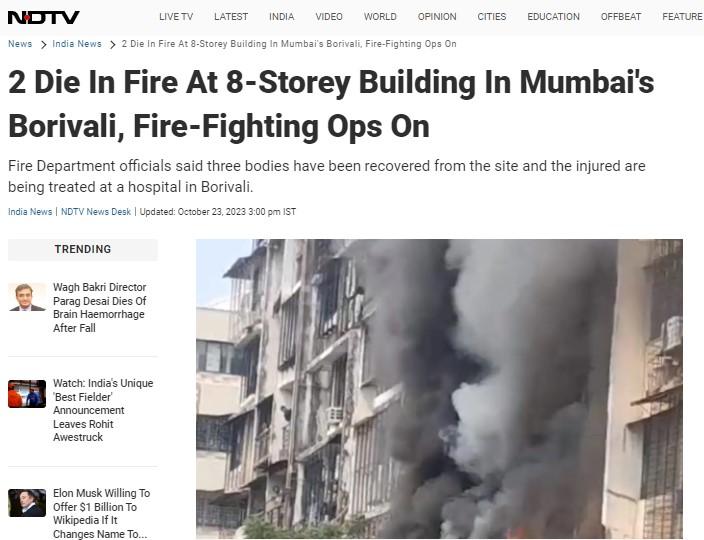 NDTV reports that at least two people died and three others were injured after a fire broke out in an eight-storey building in Mumbai's Borivali today. As per the police, the fire broke out on the first floor of Pavan Dham Veena Santur building in Borivali's Mahaveer Nagar locality at around 12.30 pm. About four fire engines are at the spot and efforts are on to rescue the people trapped in the fire. "Fire-fighting operation is going on with the help of two small hose lines and one first aid line of four motor pumps," an official said, as per the report. Read the full report here.
Santiniketan's UNESCO tag plaques to be replaced after row over Tagore exclusion
Three plaques marking Santiniketan's inclusion on the UNESCO World Heritage list would be replaced after they triggered a row over the omission of the name of Nobel Laureate Rabindranath Tagore, Hindustan Times reports. Names of Prime Minister Narendra Modi, who is also Visva Bharati's chancellor, and vice-chancellor (VC) Bidyut Chakrabarty featured on them, while Tagore's name was earlier omitted. Santiniketan was included on UNESCO's World Heritage list in September, the report mentions. Read the full report here.
Congress attacks government on issue of income inequality: The Hindu
The Congress on Monday charged that the gap between the ultra-rich and the middle class in the country is widening under the Modi government. The Hindu reported that Congress General Secretary Jairam Ramesh said an analysis of the publicly available data on income tax returns for the period 2013-14 to 2021-22 confirms one of the essential themes of the Bharat Jodo Yatra — that of increasing income inequality. Ramesh said after adjusting for inflation, the lowest 25 percent of tax-payers actually took home less real income in 2022 than in 2019, the report adds. Read the full report here.
Iran says girl who collapsed on Tehran metro is 'brain dead', BBC
A teenage Iranian girl who fell into a coma after an alleged altercation with morality police is now considered to be "brain dead", state media say. BBC reports that Armita Geravand, 16, collapsed after boarding a Tehran metro train on October 1. Activists accused morality police of assaulting her for not wearing a hijab, but the report says that authorities insisted she fainted. There was no immediate confirmation of Armita's condition from her parents or activists. The teenager is being treated at Tehran's Fajr Hospital under tight security. The report says many Iranians have drawn parallels with the case of Mahsa Amini. Read the full report here.