Quick Reads
News Dabba for 15 June 2023: Five stories for a balanced news diet
Here are the daily updates that the internet is talking about through various news websites.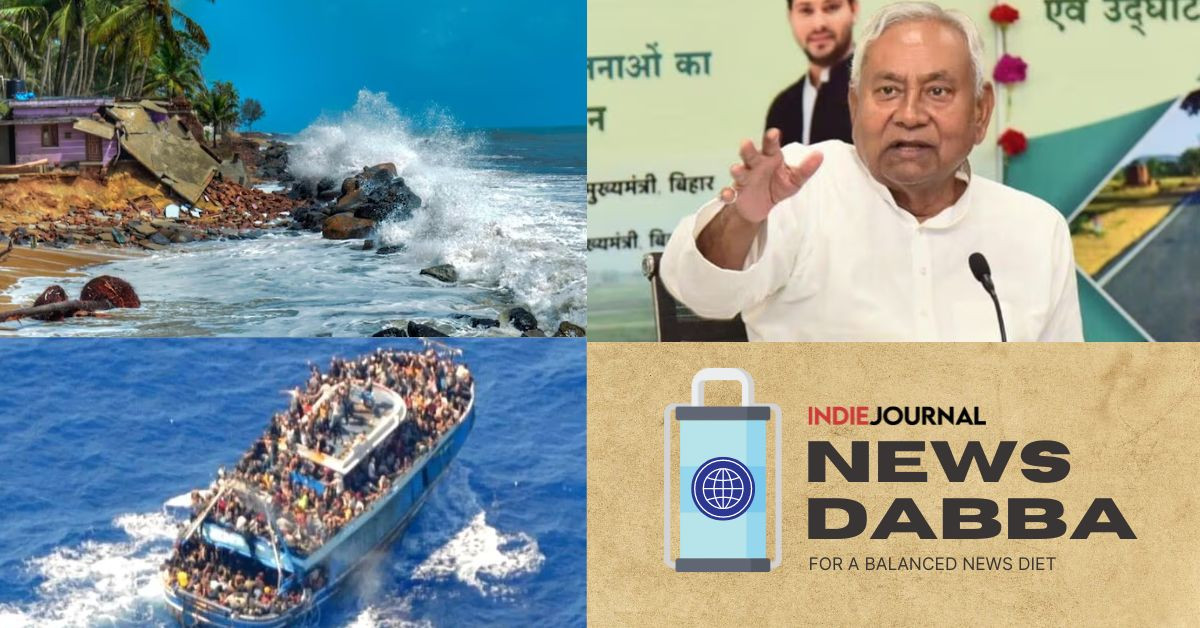 Indie Journal brings you the daily updates that the internet is talking about through various news websites. Here's a glance through some of the National and International news updates, from the Greece migrant boat disaster, Security breach during Nitish Kumar's morning walk, to updates on Cyclone Biparjoy.
The Hindu reports Delhi Police seeks cancellation of minor's case against Brij Bhushan
The Delhi Police on Thursday filed a final report before a court seeking cancellation of a sexual harassment case filed by a minor wrestler against Wrestling Federation of India (WFI) chief Brij Bhushan Singh. The Hindu reports that the police report claimed that no corroborative evidence was found in the allegations levelled by the minor. The court has put up the matter for further consideration on July 4. A cancellation report has been filed in the minor's case in Delhi's Patiala House Court. Read the full report here.
Greece migrant boat disaster leaves at least 79 dead, BBC
BBC reports that at least 79 people have died and more than 100 have been rescued after their fishing boat sank off southern Greece. But survivors have suggested as many as 750 people may have been packed onto the boat. BBC also mentions reports that there might be 100 children in the hold. Greece says it is one of its biggest-ever migrant tragedies and has declared three days of mourning. Authorities say their offers of aid were refused but they are facing claims of not doing enough to help. The report adds that the boat went down about 80 km south-west of Pylos after 02:04 on Wednesday morning local time. The coastguard said later that no one on board was wearing life jackets. Read the full report here.
Security breach during Nitish Kumar's morning walk, India Today reports
A major security lapse occurred as Bihar Chief Minister Nitish Kumar was out on his daily morning walk in Patna today. India Today reports that the incident happened as the Chief Minister was walking from his residence to Circular Housing on Circular Road. Eyewitnesses reported, as per the report, that an unidentified biker managed to breach the security cordon and entered Circular Road, directly onto the route of Nitish Kumar's morning walk. The Chief Minister was forced to swiftly jump from the road onto the sidewalk to ensure his safety. The report mentions that the biker was caught by security personnel. Read the full report here.
Trump retains polling lead: The Straits Times
Former US president Donald Trump is still the frontrunner for his party's 2024 presidential nomination, The Straits Times reports. A survey conducted mostly after he announced he was facing federal indictment showed that he still leads with 53 percent of Republican and GOP-leaning voters supporting him. Trump also touted a surge in campaign contributions from his indictment, the report adds. His campaign announced Wednesday it raised more than US$4.5 million from digital solicitations "in just a few short days" since the indictment. Read the full report here.
NDTV report on Cyclone Biparjoy: Landfall in hours, nearly 1 Lakh evacuated
Nearly one lakh people have been shifted to shelters from Gujarat's coastal region ahead of cyclone Biparjoy's expected landfall in Kutch district this evening, NDTV reports. Red and Orange alerts have been issued in several districts of the state. At present, cyclone Biparjoy is less than 200 km from the Gujarat coast. The report adds that as per the India Meteorological Department (IMD), it will cross Saurashtra and Kutch and adjoining Pakistan coasts between Mandvi and Karachi near Jakhau Port between 4-8 pm. A storm surge of about 2-3 metres above the astronomical tide is likely to inundate low-lying areas of the affected districts. Read the full report here.