Quick Reads
News Dabba for 12 April 2023: Five stories for a balanced news diet
Here are the daily updates that the internet is talking about through various news websites.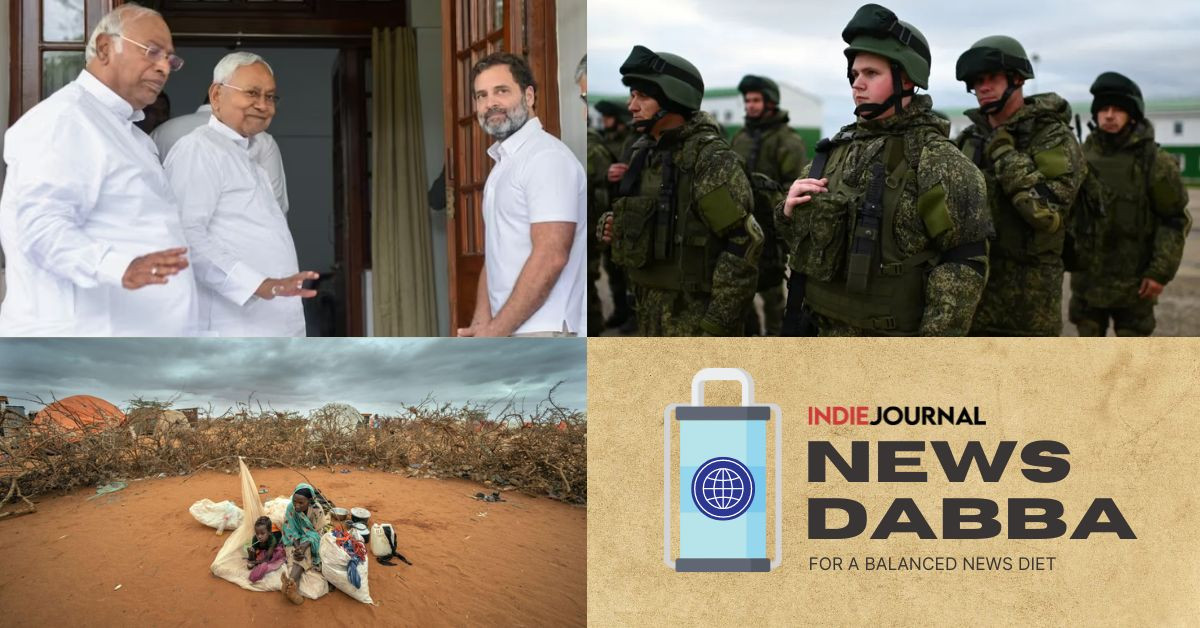 Indie Journal brings you the daily updates that the internet is talking about through various news websites. Here's a glance through some of the National and International news updates, from Russia eyeing digital draft, BJP leaders' exit from the party after Karnataka list, to looming famine in Somalia.
Russia eyes digital draft, Al Jazeera reports
Russia plans to introduce electronic military draft papers in an effort to make it harder for men to avoid being called up to fight in Ukraine, Al Jazeera reports. The State Duma, the lower chamber of parliament, approved the necessary legislation in two separate votes at lightning speed on Tuesday with near unanimity. Under the new proposals, the summons will be sent electronically to a potential draftee's personal account on the main government portal. The report says they would be considered delivered as soon as delivered electronically. Read the full report here.
NDTV on BJP leaders' exit from party after Karnataka list
NDTV reports more and more leaders are hitting out and threatening to quit after the BJP announced its first list of candidates for next month's Karnataka election. After senior leader Laxman Savadi quit the party this morning, a former BJP MLA, Doddappagouda Patil Naribol, announced his exit. A minister, S Angara, has threatened to quit. The report says all three have been dropped as candidates. Laxman Savadi is a loyalist of former Chief Minister BS Yediyurappa and one of the most powerful Lingayat leaders in the state, it adds. Read the full report here.
French President Macron praised in China for 'brilliant' Taiwan comments, TST
French President Emmanuel Macron's unexpected suggestion that Europe not "follow" US policy on Taiwan is being hailed as a "brilliant decision" this week in China, The Straits Times reports. The report says he sowed confusion across the international community after calling for "strategic autonomy" on Taiwan following last week's trip to China, where he met with President Xi Jinping. Macron's recent words on distancing Europe from Washington on the subject of Taiwan suggest China's efforts might be having some success. Read the full report here.
Reuters report: Somalis suffering from climate crisis they did nothing to create
Somalia is suffering from the impact of a climate crisis it has done almost nothing to create, United Nations chief Antonio Guterres said on Wednesday. A Reuters report states that a full-blown famine in the country threatens to follow a drought that killed 43,000 people last year. Some 8.3 million Somalis require urgent humanitarian assistance, Guterres said. After five consecutive failed rainy seasons, the drought has displaced 1.4 million Somalis. Read the full report here.
Rahul Gandhi calls meeting with Nitish Kumar a 'Historic step to unite opposition'
The Congress on Wednesday claimed a 'historic step' in attempts to unite the opposition in state polls this year and the 2024 general election. Hindustan Times reported that the declaration came after Congress boss Mallikarjun Kharge and senior leader Rahul Gandhi met Bihar chief minister and Janata Dal (United) leader Nitish Kumar and his deputy, the Rashtriya Janata Dal's Tejashwi Yadav, in Delhi. "We will try to unite as many parties as we can and move forward together," Nitish Kumar said after the meeting at Mallikarjun Kharge's Delhi residence. Over the past few weeks Mallikarjun Kharge has reached out to several opposition leaders, the report adds. It mentions that the leader has contacted Tamil Nadu chief minister MK Stalin and ex-Maharashtra chief minister Uddhav Thackeray. Read the full report here.