Quick Reads
News Dabba for 03 October 2023: Five stories for a balanced news diet
Here are the daily updates that the internet is talking about through various news websites.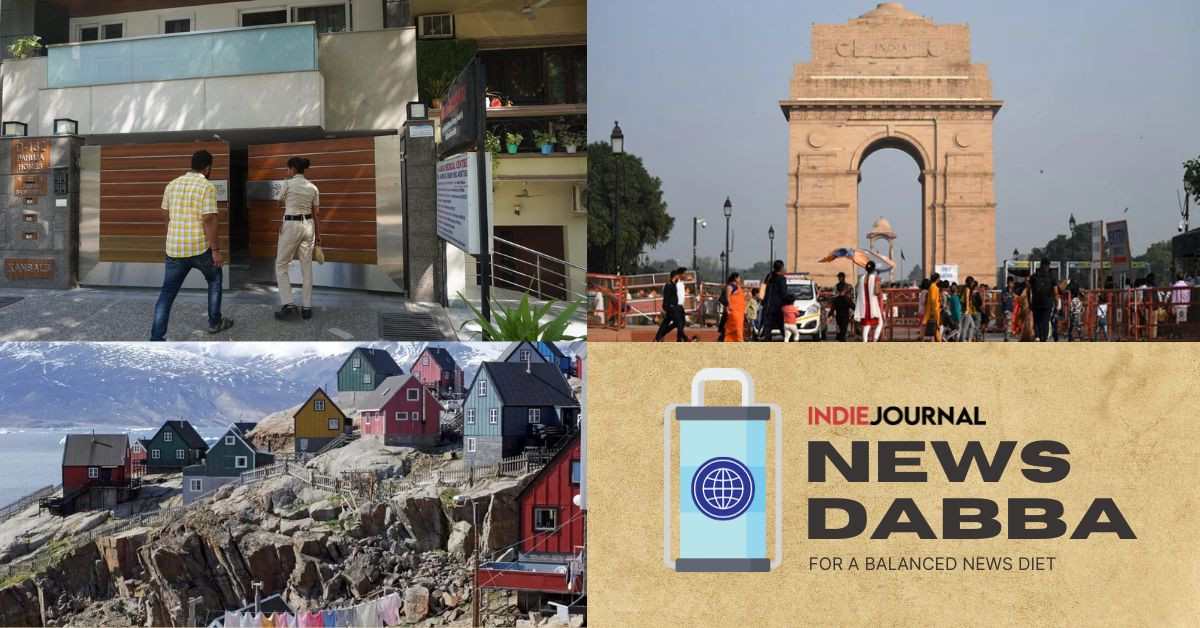 Indie Journal brings you the daily updates that the internet is talking about through various news websites. Here's a glance through some of the National and International news updates, from Delhi police raids on Newsclick journalists, remors in Delhi after Nepal earthquakes, to declaration of Nobel Prize for Physics.
NDTV: Strong tremors in Delhi after 6.2 Magnitude earthquake in Nepal
Massive tremors were felt in Delhi today after two earthquakes in Nepal. NDTV reports that one was of magnitude 4.6 and the other of 6.2, at a depth of 5 km. The first earthquake hit Nepal at 2:25 pm before being hit by the second at 2:51 pm, it adds. The earthquake was felt in Delhi and other parts of the National Capital Region (NCR). There are reports that tremors were felt in Uttar Pradesh's Lucknow, Hapur and Amroha as well as parts of Uttarakhand. Read the full report here.
Delhi police raids individuals linked to NewsClick, The Hindu reports
Delhi Police's Special Cell in the early morning of October 3 conducted multiple raids at the residences of various journalists and people associated with the news outlet NewsClick, The Hindu reports. The searches are currently under way. The report however cites sources saying that some other agencies are also likely to be involved in the action. The Delhi police is also searching the residence of activist Teesta Setalvad in Mumbai, in relation with this case. The Delhi Police has registered a case under various sections of UAPA and Sections 153A (Promoting enmity between different groups on grounds of religion, race, place of birth, residence) and 120B IPC (Criminal Conspiracy). The report adds that a fresh case by Special Cell was registered on August 17. Read the full report here.
Pierre Agostini, Ferenc Krausz, Anne L'Huillier win Nobel Prize for physics: Al Jazeera
Al Jazeera reports Pierre Agostini, Ferenc Krausz and Anne L'Huillier have won the 2023 Nobel Prize physics for "experimental methods that generate attosecond pulses of light for the study of electron dynamics in matter". The awards for chemistry, literature and peace are scheduled to be awarded on Wednesday, Thursday and Friday in Stockholm, while the award for economics will be announced on October 9. Read the full report here.
India Today on IIT-Bombay student being fined for protesting against 'veg-only' policy
Days after some students took part in a silent protest against "vegetarian only" tables set by a mess council at the Indian Institute of Technology (IIT) Bombay, the institute allegedly imposed a fine of Rs 10,000 on one of them. India Today reports that the mess council at hostels 12, 13, and 14 of the institute reserved six tables for vegetarians in the common mess space last week. The controversy erupted after a group of students held a silent protest against segregation of the mess and had non-veg food at one of the 'veg-only' tables. A committee that investigated the entire matter found that some students were forcibly trying to spoil the atmosphere of the institute, the report adds. Read the full report here.
Greenland women seek compensation over involuntary birth control, BBC
A group of 67 women from Greenland are seeking compensation from the Danish government over a campaign of involuntary birth control in the 1960s, BBC reports. At least 4,500 women, some of them teenagers, were fitted with coils under a programme intended to limit birth rates among the indigenous population. The report says that an inquiry is due to conclude in 2025. But the women, some of whom are in their 70s, want compensation now. They are seeking 300,000 kroner ($42,150) each, as per the report. Greenland, now a semi-sovereign territory of Denmark, was a Danish colony until 1953. Read the full report here.