Quick Reads
News Dabba for 02 August 2023: Five stories for a balanced news diet
Here are the daily updates that the internet is talking about through various news websites.
Indie Journal brings you the daily updates that the internet is talking about through various news websites. Here's a glance through some of the National and International news updates, from SC hearings on Article 370 abrogation, the coup in Niger, to Haryana violence.
Trump faces criminal charges for efforts to overturn 2020 election
Former United States President Donald Trump has been criminally indicted for trying to overturn the results of the 2020 presidential election, Al Jazeera reports. Prosecutors accused the Republican politician of attempting to obstruct "a bedrock function" of democracy in order to cling on to power. The 45-page indictment, filed in Washington, DC on Tuesday by Special Counsel Jack Smith, the reports mentions, detailed four felony charges against Trump. Some of these carry penalties of up to 20 years in prison. Read the full report here.
Delhi on alert as Haryana violence spreads to affluent Gurugram areas, NDTV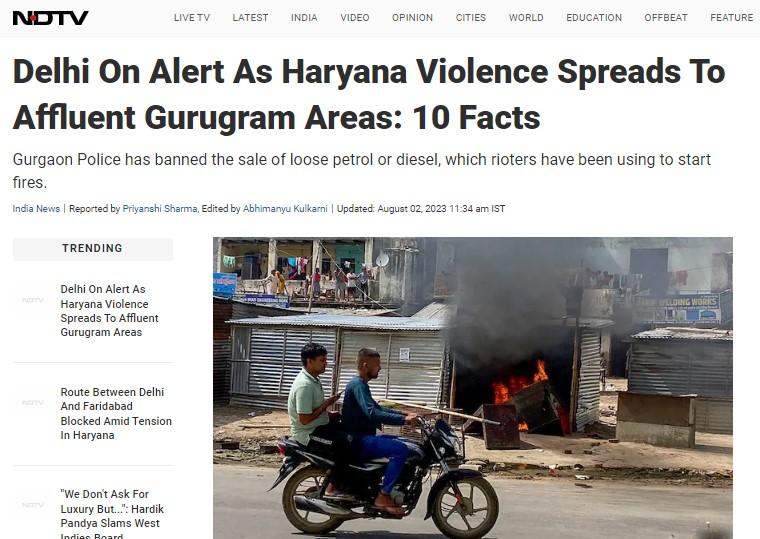 The ripples from Monday's communal clash in Haryana's Nuh have reached sector 70 in Gurugram, which is less than 20 kms from the national capital New Delhi. NDTV reports that several shops and shanties next to a residential complex were set on fire on Tuesday night. Gurugram has imposed prohibitory orders after sporadic incidents of violence on Tuesday. The sale of loose petrol or diesel has also been banned to prevent incidents of arson, the report adds. The police also urged citizens not to believe rumours and not give credence to reports on social media. Read the full report here.
Art director Nitin Chandrakant Desai dies by suicide: Indian Express
Art director and producer, Nitin Chandrakant Desai has died by suicide at the age of 57, Indian Express reports. According to reports, Nitin was found dead at his studio in Karjat. Police said prima facie, it looks like a case of death by suicide and further investigation is on. Read the full report.
Ecowas delegation to travel to Niamey following coup in Niger, TeleSUR reports
TeleSUR reports that a delegation from the Economic Community of West African States (ECOWAS) will travel on Wednesday to Niamey as part of a mediation process following the recent coup in Niger. Former Nigerien President Abdulsalami Abubakar will lead the delegation. The Sultan of Sokoto (Nigeria), Muhammadu Saadu Abubakar, will also be present, as per the report. The report says ECOWAS has imposed sanctions, including the closure of air and land borders between Niger and countries of the West African Economic and Monetary Union (WAEMU). A ban on the overflight of airspace by any aircraft to or from Niger has also been imposed, the report adds. Read the full report here.
SC hearing on Article 370 abrogation: The Hindu's live updates
The Supreme Court is scheduled to hear from August 2 a batch of petitions challenging abrogation of Article 370 of the Constitution that bestowed special status on the erstwhile State of Jammu and Kashmir. A five-judge constitution Bench headed by Chief Justice D.Y. Chandrachud will conduct day-to-day hearings from Wednesday, a report by The Hindu says. The report mentions that Senior advocate Kapil Sibal submitted that this is a historic moment as it has taken five years for the apex court to hear this case and that for five years there has been no representative government in Jammu & Kashmir. Chief Justice of India (CJI) Chandrachud says that the live-transcript of the proceedings will be made available by the end of the day as previously done for the hearing concerning the Maharashtra political crisis. Read the full report here.