Quick Reads
News Dabba 25 July: 5 stories across the web for a balanced news diet
Here are the daily updates that the internet is talking about through various news websites.
Anushka Vani brings you the daily updates that the internet is talking about through various news websites. Here's a glance through some of the National and International news updates, from Droupadi Murmu's swearing-in ceremony, the execution of four democracy activities in Myanmar, Scroll's analysis of India's rising population, the Chinese space station nearing completion, to Delhi government's alleged termination of Anganwadi workers who went on strike.
Indian Express brings live updates from Droupadi Murmu's swearing-in ceremony
After being sworn as the 15th President of India, Droupadi Murmu stated that she was honoured to take charge at a time India is completing 75 years of Independence. In addition, she also stated that she was the first president to be born in Independent India. She claimed that her election is evidence that the poor in India can not just dream but also fulfill those dreams. Read the full report on IE.
Scroll's report on the India Fix suggesting that India needs to worry about missing its demographic dividend
Scrolls Indian politics newsletter 'The India Fix' talks about the Indian population that would surpass China's by the year 2023 as per the United Nations (UNs) published data. The report says that India will keep on widening the gap. According to the report's analysis, the Indian population by the end of 2022 will be 1,412 billion people, as compared to China with 1,426 billion by the year 2050. It is said that China will shrink to 1,317 billion while India will rise to touch 1,668 billion. Read the full report on Scroll.
BBC reports that Myanmar military executes four democracy activists
BBC in today's report states that former lawmaker Phyo Zeya Thaw, writer and activist Ko Jimmy, Hla Myo Aung and Aung Thura Zaw were accused of committing "terror acts". The four democracy activists have been executed by Myanmar's military, the move is believed to be the first use of capital punishment in decades, says the report. In addition, it was also said by the Global News Light of Myanmar that these four men were executed because they gave directives, made arrangements and committed conspiracies for brutal and inhumane terror acts. Read the full report on BBC.
Chinese space station nears completion as laboratory module successfully docks, CNN
CNN reported that China successfully docked a second laboratory module to its under-construction space station. The country now takes a step closer to completing its orbital outpost by the end of the year, says the report. The Wentian module was launched atop a Long March 5B rocket from Hainan Island on Sunday, says the report. This docking has marked the penultimate phase in the construction of China's ambitious three-module Tiangong space station project. This space station is said to finish construction by late 2022. Read the full report on CNN.
The Wire: Delhi govt allegedly terminates 884 Anganwadi workers who went on strike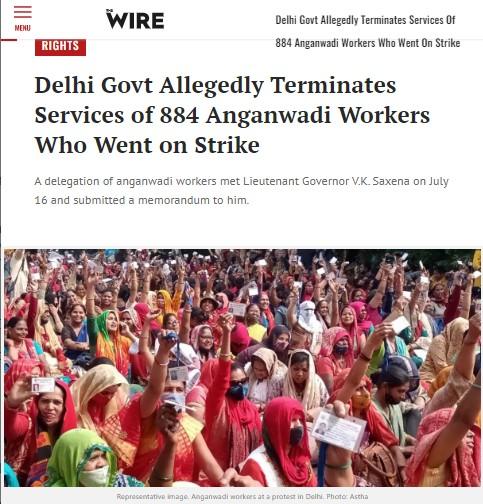 Wire's report states that the lives of 884 Anganwadi workers in Delhi were turned upside down after they were abruptly terminated for staging over a month-long strike that demanded a raise in honourarium and respectable working hours. The mentioned figure of workers comprises several single mothers, who received a termination notice on March 14 against their 39-day demonstration, says the report. In addition to this, the workers have also mentioned that despite their relentless service during the Covid-19 pandemic lockdown, they still haven't received their salaries since January and have been borrowing money to run their households. Read the full report on The Wire.