Quick Reads
News Dabba 15 September: Five stories across the web for a balanced news diet
Here are the daily updates that the internet is talking about through various news websites.
Indie Journal brings you the daily updates that the internet is talking about through various news websites. Here's a glance through some of the National and International news updates, from rape and murder of Dalit teens in UP's Lakhimpur, Sweden's election results, to the Chinese President's Kazakhstan visit.
NDTV report on UP teen Dalit sisters raped, found hung from a tree
Two Dalit sisters, 17 and 15, were raped, murdered and then hung from a tree in Uttar Pradesh's Lakhimpur by five men. NDTV report says that all six involved in the double murder have been arrested and one of them was caught in an encounter this morning, the police said. The autopsy has confirmed the girls were raped and strangled. The report adds that yesterday (Wednesday), the girls were taken to a sugarcane field and raped by two of the accused Suhail and Junaid. The others helped the two get rid of the evidence. Chhotu, a neighbour of the girls who allegedly introduced them to these men, has also been arrested. Read the full report on NDTV.
Swedish PM resigns as right-wing parties win vote, BBC report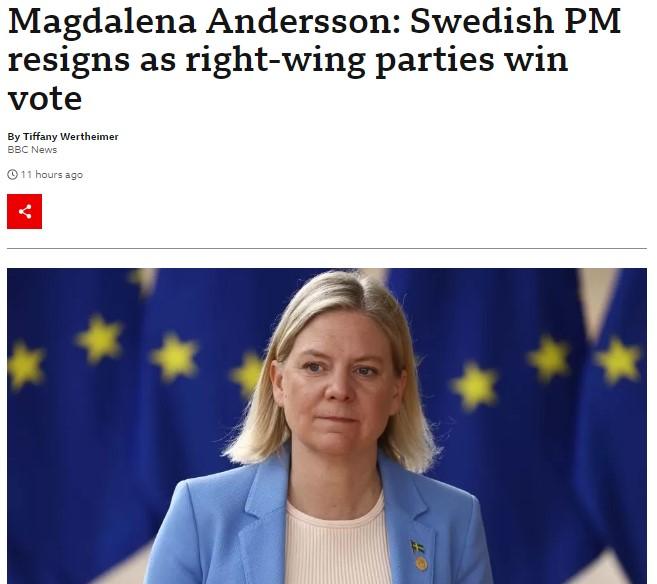 Sweden's prime minister says she will stand down after her government was defeated in Sunday's election, BBC reports. Magdalena Andersson's centre-left coalition looks set to narrowly lose to a bloc of right-wing parties, 176 seats to 173, with 99 percent of the votes counted. The report adds that Moderate Party leader Ulf Kristersson is now expected to form a government. The bloc includes the Sweden Democrats, a far-right party that has campaigned against rising gang shootings. The final result is still to be confirmed after a recount. Read the full report on BBC.
Vedanta's Agarwal, Fadnavis tweet on shifting Vedanta-Foxconn project, Indian Express
Maharashtra Deputy Chief Minister Devendra Fadnavis Wednesday welcomed Vedanta Resources Chairman Anil Agarwal's tweet saying they are "committed to investing" in the state. Indian Express report says this comes after Maharashtra government faced a massive Opposition criticism after Vedanta-Foxconn's decision to shift a multi-million dollar project to Gujarat. Fadnavis also lashed out at Opposition parties for their reaction over the relocation of the Rs 1.50 lakh crore semiconductor and fabrication plant to Gujarat. Read the full report on IE.
Chinese President vows backing for Kazakhstan's sovereignty, the Straits Times
Chinese President Xi Jinping vowed full support for Kazakhstan's sovereignty, a report by the Straits Times says. It adds that this comes at a time when the former Soviet Central Asian region has been spooked by Russia's invasion of Ukraine. "No matter how the international situation changes, we will continue to resolutely support Kazakhstan in protecting its independence, sovereignty and territorial integrity," Xi said during a meeting with President Kassym-Jomart Tokayev, according to a Kazakh government statement. The former Soviet Central Asian region, which Russia sees as in its sphere of influence, is key to China's Belt and Road Initiative (BRI), the report further says. Read the full report on TST.
Reuters: Biden, unions, rail executives struggle for deal as shutdown looms
Reuters report talks about Biden's labour contract talk to avoid a potential rail shutdown that could disrupt cargo shipments and impede food and fuel supplies. According to the report, one small union rejected a deal, while Amtrak cancelled all long-distance passenger trips. Additionally, the report also mentions that the railroads including Union Pacific, Berkshire Hathway and Norfork Southern have until a minute after midnight to reach deals with tree holdout unions representing 60,000 workers. Read the full report on Reuters.