India
Modi's obsession with Gandhi
The latest addition to this string of affectionate gesture towards Gandhi is the announcement of 'Gandhipedia' in the Union Budget.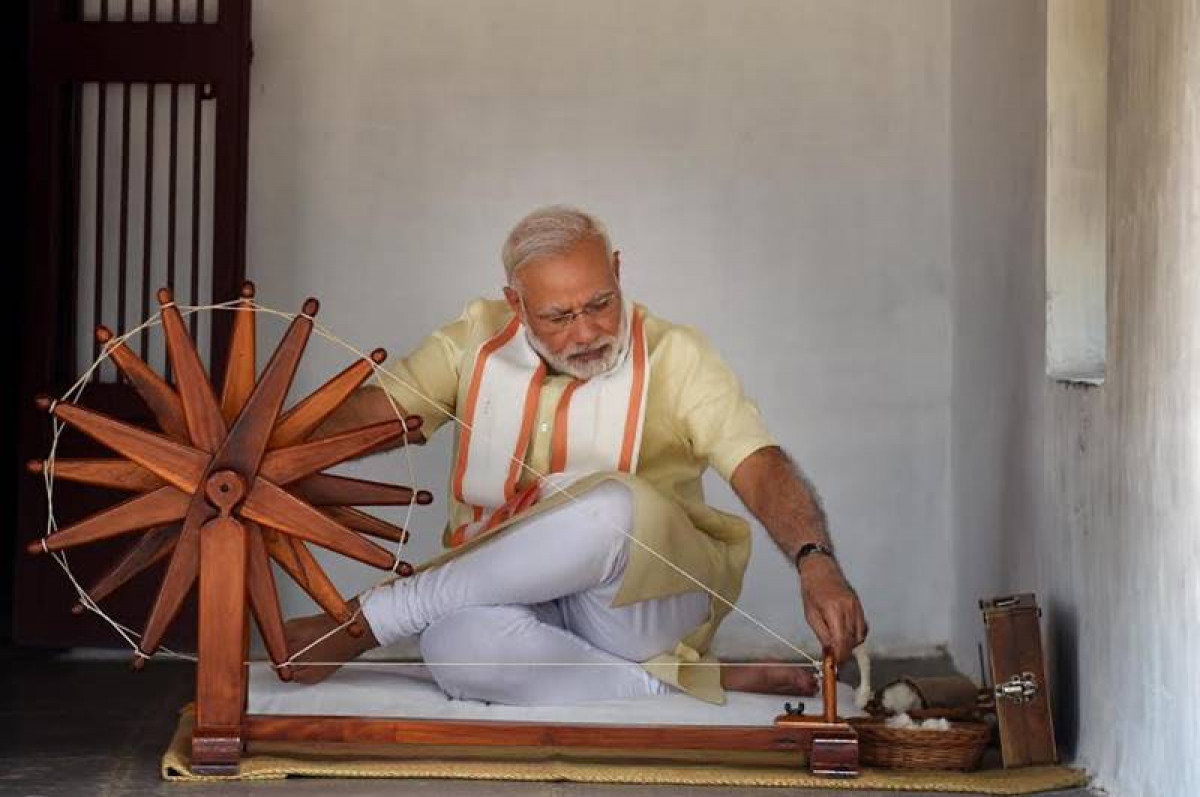 - Parijat Joshi
On 2nd October 2014, a few months after the BJP government came to power for the first time in India, Prime Minister Narendra Modi launched its flagship programme, Swachh Bharat Mission, on the occasion of Gandhi Jayanti. Since then, the PM's inexplicable obsession with Mahatma Gandhi has anything but continued to rise.
During the Lok Sabha election campaign and Modi's speeches saw him almost vilifying Jawaharlal Nehru, the Modi government, on the other hand, has shown much more generosity towards Mahatma Gandhi. The 150th birth anniversary of Mahatma Gandhi has been taken up by the Union Government with the kind of fervour that no other leader's memorial might have seen in the country's history.
Moreover, the production of Khadi, that Gandhi promoted so fiercely, has increased by 62 percent in the last five years, according to the Khadi and Village Industries Commission (KVIC) as reported in the sections of media last month. India also hosted a Mahatma Gandhi International Sanitation Convention last year, that brought together sanitation ministers and experts from around the world.
The latest addition to this string of affectionate gesture towards the 'Father of the Nation' has been the announcement of 'Gandhipedia' in the Union Budget 2019. In her Budget speech, Union Finance Minister Nirmala Sitharaman stated that the government had been working on a repository of information about the life and works of Mahatma Gandhi, which will soon be made accessible to the public through the Gandhipedia portal. "Gandhipedia is also being developed by the National Council for Science Museums to sensitise youth and society at large about positive Gandhian values," Sitharaman said.
However, Modi's sudden and continuous obsession with Gandhi since he has come to power in the country seems to be more of a form of tokenism rather than his love for India's beloved hero. As senior historian Irfan Habib had once pointed out, it seems like Modi has appointed Mahatma Gandhi as India's senior sanitary inspector.
"There is so much more to Gandhi than his love for sanitation. However, the Modi government seems to believe that to be the only quality of Mahatma that they need to imbibe. It does not look like a sincere effort at all, it's all a political farce," S. Irfan Habib said while talking to Indie Journal.
"Gandhi's nationalism was not even close to the kind of nationalism that we see prospering in our country today. His was not the nationalism of hatred. Does our government today have the courage to embrace the nationalism of love and togetherness that Gandhi stood for?" he questioned.
In fact, Modi's love for Gandhi has been questioned by the Opposition leaders several times. As per a year-old report by India Today, Congress Spokesperson Priyanka Chaturvedi had alleged that it's the PM's love and lust for power that forces him to recall the contributions of the nation's tallest icons. Some other Congress leaders have also attributed Modi's obsession for Gandhi to the absence of such a powerful legacy in his life, while the other 'icon' at India's political forefront who is often posed as Modi's nemesis, Rahul Gandhi, is a descendent of Nehru.
"It's not really his love for Gandhi, but a political strategy by Modi to take away everything from the Congress," said V Lenin Kumar who is an Associate Professor at the MIT School of Governance. However, the BJP has strongly answered the criticism saying that Mahatma Gandhi is not the property of Congress, and it would be selfish of them to claim ownership over the Father of the Nation. "While everyone has only preached Gandhian values, we are the only ones to have put them into practice," said BJP's city unit chief Yogesh Gogawale.
"Going beyond party politics, we tried to inculcate the Gandhian ideology in the people of India. Since 2014, whether it is Swachh Bharat Mission, or the programmes for an open defecation free India, only BJP has strived to take Mahatma Gandhi's ideology ahead, something that the Congress had failed to do," he added.
"Gandhiji was also an advocate of communal harmony. Is BJP government, in any way, encouraging communal harmony in the country?," questioned Lenin Kumar who further said, "The show of affection for Gandhi is merely an attempt at hiding facts, a desperate attempt to neutralise the Rashtriya Swayamsevak Sangh (RSS), and its role in Gandhi's assassination. Because if they truly hold Gandhi in such high regard, then why do they not take action against those who justify his assassin, Nathuram Godse?"
It must be pointed out here that the BJP Bhopal MP Pragya Singh Thakur, just a couple of months ago, lauded Godse to be a patriot while the Party conveniently distanced itself from the comment, as it has on several other occasions. These leaders go on with their lives as usual, with no consequences to their words or actions other than a mere show-cause notice, while Modi, on the other hand, continues to appeal to people in the name of Gandhi, all the while also not failing to curse Nehru.
"Nehru-hatred is not new in right-wing politics. If you go back to the pre-independence times, you will see that even back then, Nehru was the prime target of the right-wing ideologists in the country. He was seen as their strongest enemy, as he challenged them, criticised them through his prolific writing. Although Sardar Vallabhbhai Patel, who too is celebrated by the Modi-led government, was a critic of the right-wing himself, he was a man of action, and didn't say or write much that would evoke the ire of the RSS, and the other such organisations. Probably that is the reason behind the strange animosity that Modi seems to share with India's first prime minister," Habib said.
This year is set to be full of many more of these displays of affection towards Modi's beloved icon, amidst the continuing brawl between the politicians over their love for Gandhi. The Prime Minister has taken the oath of achieving Gandhiji's resolve of Swachh Bharat to make India Open Defecation Free by 2nd October 2019. He has also directed the BJP MPs in all Lok Sabha constituencies to organise a 150 km long pad yatra (foot march) from October 2 to 31, to celebrate the 'Gandhi 150'.
"Well, all we could wish for is the symbolism to not go in vain. All we could hope for here is to something sincere to come out of all these symbolic gestures that the government has been trying to appease us with," Habib concluded.
- Parijat Joshi is a freelance journalist.