India
Amid ban on plastic, demand remains elastic
Central Government implemented a ban on single use plastic items from July 1.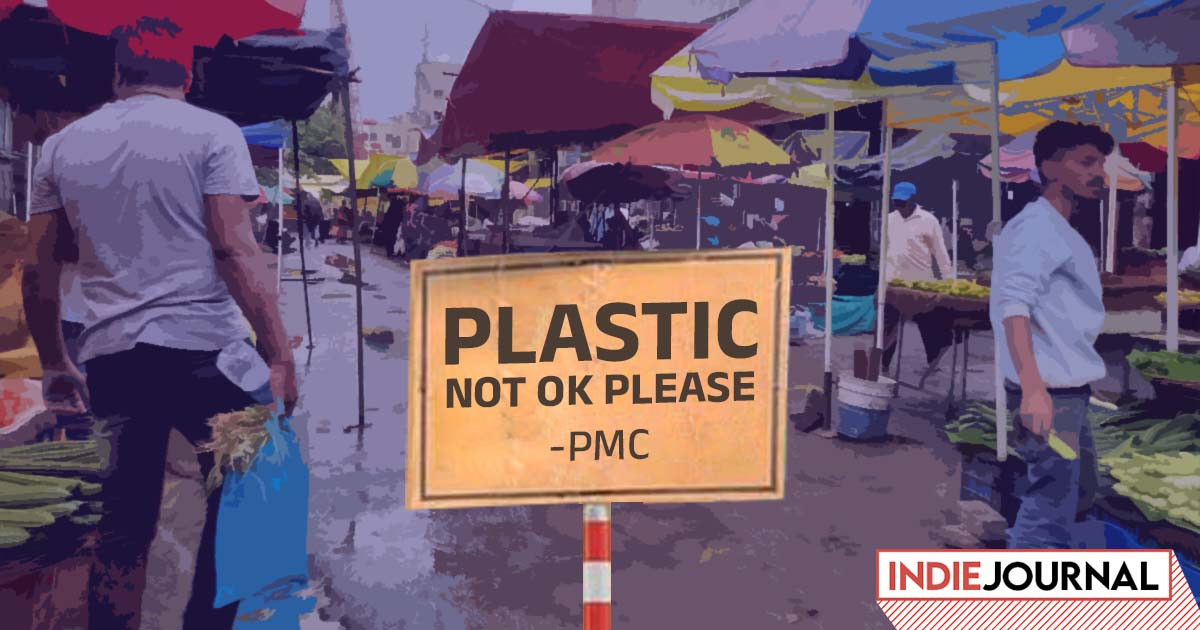 Anushka Vani, Pune | The ban on single use plastic (SUP) imposed by the Central Government has started affecting the livelihoods of small vendors such as fruits and vegetable sellers. The ban implemented on July 1, restricts the use of all the use-and-throw plastic items. The shopkeepers and vendors at Mahatma Phule Mandai say that they were not given prior notice in advance or enough time to transition to the ban. Officials at the Pune Municipal Corporation (PMC) however say that such notices were not issued because this is a continuation of the already existing ban on SUP in the state.
"The businesses were not given any prior notice ahead of this action as it is based on the state governments ban which was issued in 2016 and then in 2018", says Tushar Raut, Health Inspector, PMC. In March 2018, the Maharashtra State Government, then led by BJP's Devendra Fadnavis, had imposed a total ban on single use plastic and carried out strict actions against shopkeepers, vendors as well as citizens found using SUP items like carry bags. The action, however, faded out over the months following the ban, with plastic bags and other SUPs making their way back to common use unhindered.
"We were told about the ban just a day prior to the ban and action against SUPs began. We had no time to prepare," said a vegetable seller at Pune's Mahatma Phule Mandai.
However, according to Ravi Khandare, Assistant Municipal Commissioner, PMC said that after the Central Government's instructions, shopkeepers were given a buffer of two days for the transition.
In June 2018, Maharashtra imposed a state-wide ban on plastic to demonstrate its seriousness towards fighting plastic's choke-hold on the environment by eliminating single-use plastics by the year 2022.#MausamIsAwesome.#HappyRepublicDay2019 #गणतंत्रदिवस pic.twitter.com/BIvRQLMe1w

— The Weather Channel India (@weatherindia) January 26, 2019
Raut also added, "Since the Central Government has been publicising its orders against the SUP through television and newspapers, it was not necessary to provide additional notice."
While the shopkeepers and vendors are trying to stop handing out plastic bags now, they say that they are losing customers because of it. While it's a much more common habit for people to carry their own bag while going to a vegetable market, vegetable and fruit sellers at Mandai said that they have had to let go of customers who demand carry bags.
"We can provide them with newspapers but due to the rains, the papers do not last long enough. Despite that, we are trying to follow the rules. However, the problem will persisist until the manufacturing units of these SUPs are functional. Even if we refuse to give a plastic bag, the people will somehow get their hands on it and the whole purpose will be defeated," says a fruit seller at Mahatma Phule Mandai.
In order to ensure that this ban runs smoothly, PMC's Shivajinagar - Ghole Road Ward Office has appointed 12 sub-inspectors (SIs). "Each SI has been assigned an 'Aarogya Kothi' (health units) which monitors all the purchases, sale and handling of plastics in its designated area. From these units, the SIs investigate all commercial spaces and take actions against the use of plastic," says Raut.
---
Also read: India's ban on single use plastic - A step ahead or a gimmick?
---
There are 15 regional offices under the municipal limits of Pune, the health officers appointed here are ordered to supervise the region and check if any shopkeeper or a hawker is violating the ban, and if found doing so, also take necessary actions against them. In addition to this, Khandare said that there are nine health inspectors who inspect the regions every day.
The shopkeepers have however complained that the officers come and threaten them that they would shut and destroy their shops if caught selling, providing, or using any plastic items.
While Khandare denied the allegations, he also said that the officers might have used a stern tone to warn the shopkeepers. He said, "They do not threaten their livelihood. But if the shopkeepers, vendors do not follow the orders at all, we have to take action against them."
He added, "If any of the shopkeepers or a vendor is caught violating the ban, they are first charged with a fine of Rs 5,000. If they are caught the second time, we charge them Rs 10,000 and warn them and the third time, they are fined Rs 15,000."
Some people still do not follow the orders, Raut added, saying, "If caught, shopkeepers often use the excuse that they were not aware of such impositions, but it is not about awareness, people should know that the ban is not a new regulation. The fine collection from the Shivajinagar's Ward office till July 6 was Rs 17,000, while the Aundh office collected a total fine of Rs one lakh since July 1.
Mahatma Phule Mandai, Pune. Photo - Anushka Vani
When the ban was imposed the last time, some of the fruit vendors had shifted to paper envelopes. They say that ever since then they have been using these envelopes. A sweet potato seller said that in a day he has to let go of at least 10 customers because he refuses to give them a plastic bag. "Customers come to buy one kg of sweet potatoes which cost Rs 80 and then they ask for a carry bag, If we deny, they just walk away without buying anything."
The shopkeepers raised a question, asking why they are always targeted when there are these dustbin bag sellers, who are openly selling plastic bags.
"Thee dustbin bags are also strictly not allowed and we are looking into their sellers too. We stop them whenever they are spotted. We have been instructed to not go soft on them and confiscate the bags from them, but because they cannot afford to pay a bulk amount we do not take money from them," said Khandare.
Raut also added, "Due to limited manpower, it is difficult for us to reach them, as they sell these bags at multiple locations all over the city. Shops are easier to monitor."
It's not that the shopkeepers don't want to support the ban. But it's the question of livelihood that is hindering the transition at the moment.
Khandare said that the ban this time is going to be much stricter than the ones that preceded it, as far as implementation and action are concerned. He also added that people are more aware this time, than the last time. "As compared to the years 2016 and 2018, when such bans were first introduced, people have now become more mature to understand their responsibilities towards the environment. We already see many have started carrying their own bags," said Khandare.