India
Airline unions come together to discuss roadmap post Air India sale
A webinar was organized by the All India Forum Against Privatisation.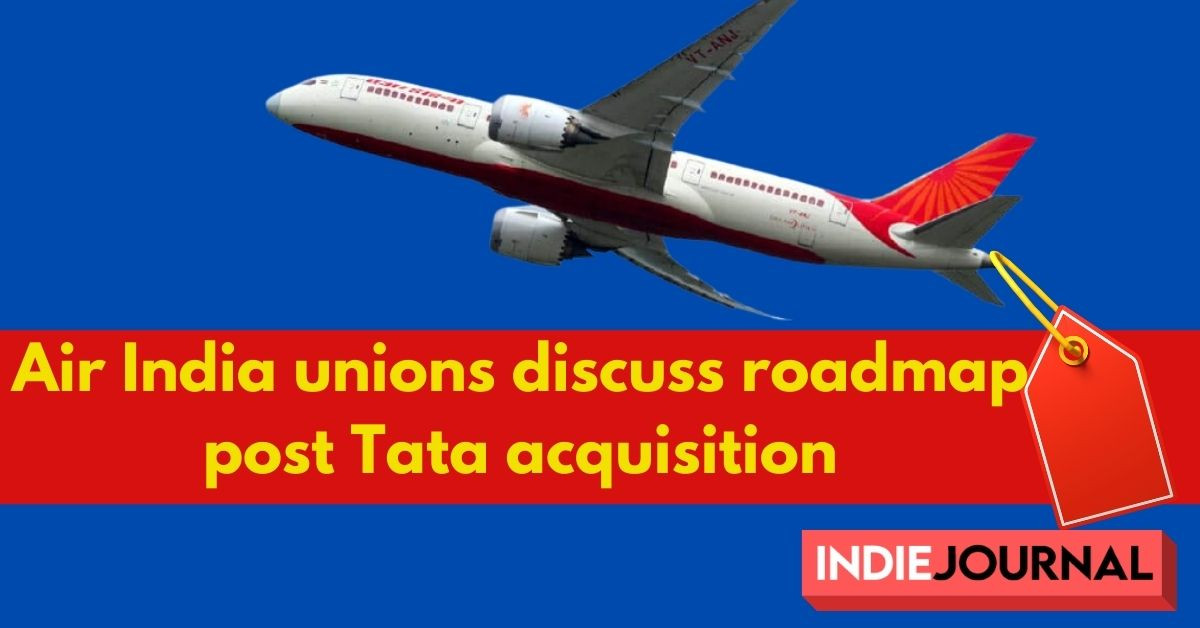 Following the government's recent decision to sell the public sector Air India to Tatas, various trade unions in the organization did a lot of soul-searching yesterday and decided that they must learn from the firm farmers' agitation. They did this during a webinar organized by the All India Forum Against Privatisation and decided that they should meet physically in Delhi soon to discuss various issues. One of the major problems that were discussed is that each employee stands to lose lakhs of rupees because of faulty investment of the provident fund in controversial companies like Dewan Housing, ILFS etc which have incurred heavy losses.
"We ought to have taken a hardline approach," said K.V.J.Rao, General Secretary of the Cabin Crew Association. He said that on his part he had launched a number of fights and challenged the flight safety violations of the company and had filed criminal complaints against the management on various issues resulting in two directors of Air India appearing in court on October 26. For this, his services were terminated, but he still says that 'we must fight, stand up.' If one employee loses a job, even if all the employees collect just Rs.100 per month in his or her support, the person's problems can be solved. Only through a hardline approach, the management will yield.
He also said, "If employees show solidarity, they have nothing to fear from privatisation. Besides, Tata is a known devil, better than other operators. The airline sector is labour-intensive, so it cannot afford to antagonise the workers too much."
"The airline sector is labour-intensive, so it cannot afford to antagonise the workers too much."
Mr S.N. Bhatt, President of the Aircraft Engineers' Association, said, "The government has made a fool of us all through privatisation, that is the price we have to pay for not being militant."
Various leaders strongly criticized several measures taken by the government and the Air India management which resulted in heavy losses, like handing over profitable routes to the private sector airlines and needlessly buying more aircraft than were needed.
Mr. Ashok Rao, senior engineer and patron of the Engineers' Association in the electric power sector, said, "The most dangerous aspect was that the government was selling entire sectors, not just individual undertakings. They are now targeting the power sector." He criticized the Air India management for a series of its failures, saying, "It had sold prime hotels at cheap rates, Centaur near the Mumbai airport had been sold cheap, which the buyer then quickly resold it at a huge profit."
The civil aviation ministry behaved as if it was not aware of what was going on. A former secretary of the ministry asked unbelievably how the ministry was to know if things were not brought to its attention. "The very sovereignty of the nation was now under attack," he said.
Mr J.B. Kadian, secretary of the air corporation employees union, claimed that his was the oldest and biggest union in Air India and he faced some criticism that the union had been ineffective, it had failed to bring any monetary benefit to employees for almost a decade. He said the union faced a number of problems, its offices were locked and many union workers were sacked.
He said, "Air India had the best inhouse repair and service facility in the world but the work of servicing aircraft was got done outside at heavy expense."
He said there was now some uncertainty about working conditions. At present, retired employees get a lot of facilities including medical. What will happen to them now, besides there are various holding companies of Air India, what happens to them? He and other union leaders felt some of the best real estates of Air India will now fall into the hands of the Adani group.
Mr R.A.B. Mani, a respected veteran in the airline union, said crores of rupees had been spent on designing the symbol for Air India and a foreign company had been hired even for the privatisation modalities.
Air India did a great job in bringing back Indian nationals and others during Covid times from other countries, pilots did that at risk to their lives. The positive contribution of Air India was being ignored. He said, "Trustees from among workers could not escape blame in the provident fund scam."
A. Matthew of the All India Forum Against Privatisation, Ashok of Kamgar Ekta Samiti and Girish Bhave of the forum said unions in all public undertakings need to be vigilant in view of the attacks by the government. The forum has taken the initiative to start a dialogue among various unions and has brought together fifty-five federations from ten sectors.